DESTINATION HUBBLE: After a smooth countdown and picture-perfect liftoff, space shuttle Atlantis and a crew of seven astronauts are in space, ready to begin their 11-day mission to service NASA's Hubble Space Telescope. Atlantis lifted off Launch Pad 39A at NASA's Kennedy Space Center in Florida at 2:01 p.m. EDT. [more]
EUROPA OCCULTS GANYMEDE: On May 8th, Anthony Wesley of Murrumbateman, Australia, recorded a very rare event--one of Jupiter's moons eclipsing another. "Here," says Wesley, "is an animation of Europa passing directly in front of Ganymede."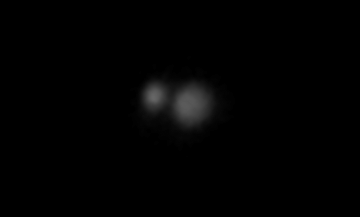 He made the movie using a 13-inch telescope and a digital video camera. "Seeing was not good, so I was only able to use 250 of the 1200 frames I collected." Nevertheless, it is an extraordinary observation, showing the distant moons as genuine world-like disks as they pass in "mutual occultation."
Earth is moving through the orbital plane of Jupiter's satellites, allowing the moons to line up for events such as Wesley recorded on May 8th. This special geometry comes along approximately once every 6 years. The last time was in 2002-2003, and now it is happening again. Between April and December of 2009, observers around the world can see Jupiter's moons passing one in front of another as they circle the giant planet. As part of the International Year of Astronomy, professional astronomers are organizing a worldwide observing campaign to record as many of these events as possible. Click here for details.
SATELLITE COLLISION: On Feb. 10th, 2009, Iridium 33 collided with Cosmos 2251 over northern Siberia, and the two satellites were shattered. US Strategic command has since catalogued 981 pieces of debris. On this three-month anniversary of the collision, veteran satellite observer Daniel Deak has prepared a set of 3D maps showing where the fragments are located: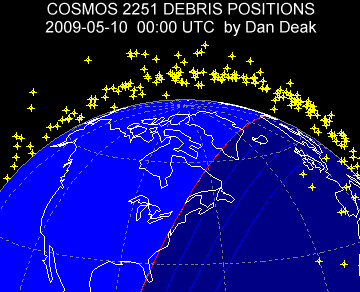 Maps--Iridium 33: #1, #2, #3, Cosmos 2251: #1, #2, #3
The image above pinpoints the fragments of Cosmos 2251 on May 10th. A complementary map shows the debris from Iridium 33.
A comparison of the two maps, Iridium 33 vs. Cosmos 2251, shows that the Cosmos satellite was not only broken into more pieces but also scattered more widely. "Sixteen pieces of Cosmos 2251 have already reentered Earth's atmosphere vs. only 9 pieces of Iridium 33," notes Deak.
Indeed, the Iridium satellite seems to have held together better than its Russian counterpart. One piece of Iridium wreckage is so large it may be seen with the unaided eye flashing every 4.7 seconds as it tumbles through the night sky. Check the Simple Satellite Tracker for flyby times.
---
April 2009 Aurora Gallery
[previous Aprils: 2008, 2007, 2006, 2005, 2004, 2003, 2002]
---