| | | |
| --- | --- | --- |
| Metallic photos of the sun by renowned photographer Greg Piepol bring together the best of art and science. Buy one or a whole set. They make a stellar gift. | | |
AMPLIFIED GREENHOUSE EFFECT SHIFTS GROWING SEASONS: Vegetation growth at Earth's northern latitudes increasingly resembles lusher latitudes to the south, according to a NASA-funded study. "It's like Winnipeg moving to Minneapolis-Saint Paul in only 30 years," says one of the lead researchers. [full story]
COMET PAN-STARRS UPDATE: Yesterday, March 10th, Comet Pan-STARRS (C/2011 L4) made its closest approach to the sun. Inside the orbit of Mercury, the comet was hit by solar rays ten times more intense than we experience on Earth. This sets the stage for a good show as Pan-STARRS, glowing brightly, moves into the night sky later this week. Dr. Fritz Helmut Hemmerich of Tenerife (Canary Islands) caught a hint of things to come last night when he photographed the comet setting just behind the sun: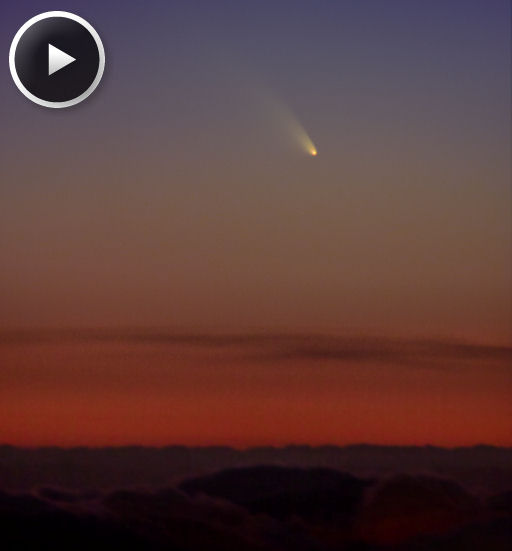 "We went high on the Teide volcano to photograph the comet [above the roiling clouds]," says Hemmerich. "Each frame in the video is a 4 second exposure taken with a Canon 1100D digital camera set at ISO 400."
Although Comet Pan-STARRS is bright, somewhere between 1st and 2nd magnitude, most observers say they are still having trouble seeing it with the unaided eye in the bright evening twilight. A few seconds exposure with a digital camera, however, reveals it easily. Binoculars help, too.
Visibility will improve in the nights ahead as the comet moves away from the sun. Dates of special interest include March 12th and 13th when Pan-STARRS passes not far from the crescent Moon. The tight conjunction on the 12th provides a splendid opportunity for sunset photographers. Look low and west for a beautiful view. Sky maps: March 12, March 13.
More: NASA video, 3D orbit, ephemeris, light curves.
STEREO-B SEES COMET PAN-STARRS: On March 10th, Comet Pan-STARRS passed by the sun just inside the orbit of Mercury. The close encounter brought it into the field of view of NASA's STEREO-B spacecraft. The sun, Earth, and comet are labeled in this low-resolution beacon image from STEREO-B's Heliospheric Imager: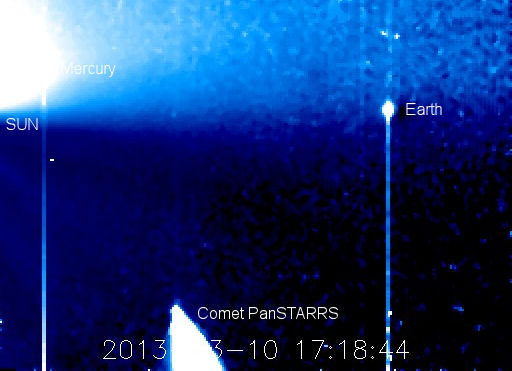 Comet Pan-STARRS is so bright, it is actually saturating the pixels of the imager's digital camera. The comet's luminosity is mainly due to dust. Earth-based observations show that Pan-STARRS is dustier than an average comet. Comet dust reflects sunlight, so the fan-shaped tail of Pan-STARRS, chock full of it, is especially bright.
Low-resolution beacon images will be followed in a day or so by high-resolution movies. Stay tuned for a great view of Comet Pan-STARRS passing the sun.
Realtime Space Weather Photo Gallery
GREEN ICE: On March 9th, ice along the coast of Sortland, Norway, turned vivid green. Onlooker Frank Olsen photographed the phenomenon: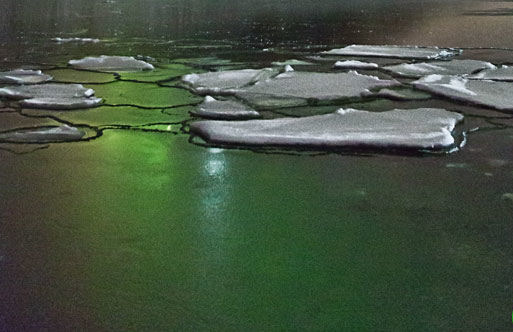 What caused this? The hint of purple in the lower left corner is an important clue. It's a reflection of auroras in the sky above. "I missed out on the biggest outbursts because I was driving my car with no place to stop," says Olsen. When he finally pulled over "it was pretty cold, at -16C degrees." Photographing the icy verge seemed like the right thing to do.
NOAA forecasters estimate a 10% chance of polar geomagnetic storms on March 10th. Those are the odds of more green ice tonight. Aurora alerts: text, voice.
---
Realtime Noctilucent Cloud Photo Gallery
[previous years: 2003, 2004, 2005, 2006, 2007, 2008, 2009, 2011]