| | | |
| --- | --- | --- |
| Thirty-five new items have just been added to our Meteorite Jewelry collection. Browse the Space Weather Store for something out of this world. | | |
SEE MERCURY AT SUNSET: The planet Mercury is about to make its best apparition of the year for backyard sky watchers. Look west at sunset for a piercing pink planet surrounded by twilight blue. [video] [photo gallery]
SIX GOING ON SEVEN: Last night, for the sixth night in a row, auroras danced across the midnight skies of Scandinavia. "At the risk of sounding boring and repetitive, I have to say this: It was another great night in the Arctic!" reports Rayann Elzein of Utsjoki, Finland. The Northern Lights he witnessed stretched from horizon to zenith: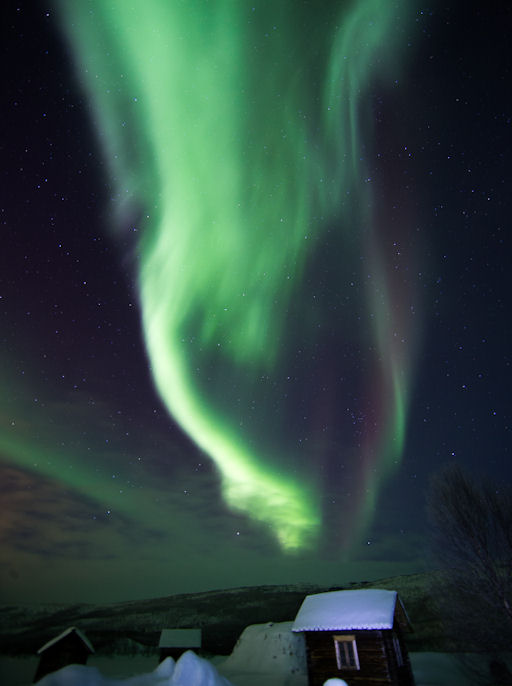 "This is for me so far 6 nights out of 6 with beautiful auroras in the sky," says Elzein.
Tonight could be number seven. A solar wind stream is expected to brush past Earth's magnetic field on Feb. 11-12, stirring up more auroras. Debris from the filament eruption of Feb. 9th (see "Earth-Directed Eruption," below) might also arrive, further boosting the odds of polar geomagnetic activity on Feb. 12th. Aurora alerts: text, voice.
EARTH-DIRECTED ERUPTION: On Saturday, February 9th, around 0640 UT, a magnetic filament in the sun's northern hemisphere erupted, hurling a coronal mass ejection (CME) toward Earth. NASA's Solar Dynamics Observatory captured the UV flash from the underlying C2-class solar flare: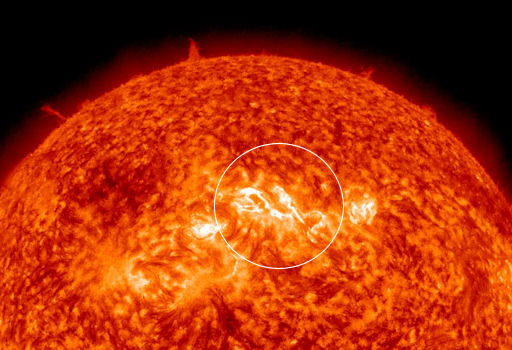 The CME, which was captured in flight by the Solar and Heliospheric Observatory, billowed away from the sun at 800 km/s. The bulk of the cloud looks like it will sail north of Earth. Nevertheless, a glancing blow is possible as shown in this 3D model of the CME prepared by analysts at the Goddard Space Flight Center. High-latitude sky watchers should be alert for auroras on Feb. 12th when the CME passes by. Solar flare alerts: text, voice.
Realtime Space Weather Photo Gallery
SUNDOGS: How many dogs can you count in this picture? Hint: Don't forget the sundogs. Scroll down past the sled for a total: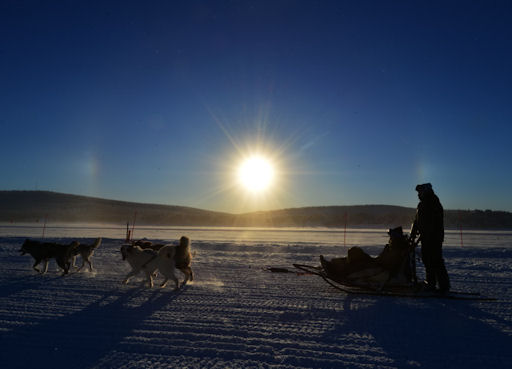 Answer: Six, four huskies plus two parhelia--a.k.a. "sundogs." They are bright splashes of light to the left and right of the sun caused by sunlight shining through ice crystals in the air.
"They appeared to result from snowmobiles and dogs kicking snowdust up into the Artic air," says Ian Collins, who took the picture on February 9, 2013 from Jukkasjarvi, Sweden.
With northern winter entering its coldest, snow-dustiest phase, now is a great time to be alert for the phenomenon. The Iditarod is coming in March. Can you say photo-op?
---
---
Realtime Space Weather Photo Gallery
---
Realtime Noctilucent Cloud Photo Gallery
[previous years: 2003, 2004, 2005, 2006, 2007, 2008, 2009, 2011]