| | | |
| --- | --- | --- |
| Where's Saturn? Is that a UFO--or the ISS? What's the name of that star? Get the answers from mySKY--a fun new astronomy helper from Meade. | | |
SOLAR ACTIVITY: "Wow - the edge of the Sun is alive with prominences today," reports Pete Lawrence of Selsey, UK. "If you have a solar telescope and clear skies, take a look at the west and south-western limb. These features are changing by the minute so you never know what you might see."
more images: from Greg Piepol of Rockville, Maryland; from Peter Paice of Belfast, Northern Ireland; from Andreas Murner of Lake Chiemsee, Bavaria, Germany; from Michael Borman of Evansville, Indiana;
GREEN MOUNTAINS: A solar wind stream hit Earth on Sunday, Feb. 10th, sparking auroras over Alaska so bright "they lit up the mountains with an emerald green color," reports Dave Taylor from the Matanuska Glacier: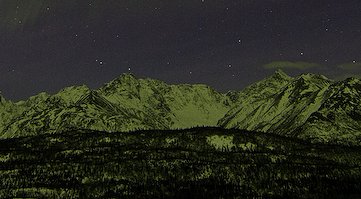 "It was an amazing show," he says, and it's not over. The solar wind is still blowing, faster than 600 km/s (1.3 million mph), and causing high-latitude geomagnetic storms. Sky watchers around the arctic circle be alert for more auroras tonight.
Astronauts should be alert, too. The combined crew of space shuttle Atlantis and the International Space Station has an out-of-this-world view of the Northern Lights. Click on the links for astronaut photos of February auroras: #1, #2, #3, #4, #5.
February 2008 Aurora Gallery
[Aurora Alerts] [ISS Aurora Camera: Nikon D2Xs]
SIGHTINGS: On Saturday, Feb. 8th, just as space shuttle Atlantis was preparing to dock to the International Space Station, the pair of spacecraft flew over Poland where Grzegorz Tuszyński was waiting with his 10-inch telescope to take this picture: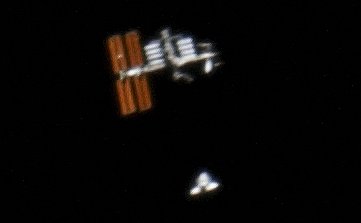 Hours later, Atlantis docked and delivered a new science laboratory to the ISS. The 23,000-lb Columbus module is being installed by spacewalking astronauts today: full story.
Ongoing contruction of the ISS is making the station bigger and more luminous than ever. It's easy to see with the unaided eye, especially when sunlight glinting from solar panels makes the station flare brighter than Venus. And, as shown above, it is a wonderful target for backyard telescopes. Sky watchers in Europe and North America, ready your optics for a series of favorable flybys in the evenings ahead: flyby alerts.
more images: from Frank Ryan Jr of Shannon, Ireland; from Martin Popek of Nýdek, Czech Republic; from Catalin Timosca of Turda, Romania; from Etienne Lecoq of Normandy, France; from Josef Huber of Munich Public Star Observatory, Germany; from Karel Dewaele and Jochen Debaenst of Stavele, West - Vlaanderen, Belgium; from Marco Langbroek of Leiden, the Netherlands; from Albert Engert of Reichenberg, BY, Germany; from Marc Rathmann of Rosslau, Sachsen-Anhalt, Germany; from Martin Wagner of Sonnenbuehl - Genkingen, Germany; from Quentin Déhais of Normandy, France; from Francesco De Comite of Mouscron Belgium; from Roy Keeris of Zeist, The Netherlands; from Andy Taylor of Fleet, Hampshire, UK; from Klipsi 10 miles west of Geneva, Switzerland; from Robert Malmström of Reutlingen - Rommelsbach, Germany; from Martin Gembec of Jablonec n.N., Czech Republic; from Steve Holmes of Laxfield, Suffolk, UK;