VOLCANIC SUNSET ALERT: A plume of sulfur dioxide from Indonesia's deadly Mount Merapi volcano is swirling through the upper atmosphere over western Australia. This 7-day movie from the Global Ozone Monitoring Experiment-2 (GOME-2) onboard Europe's MetOp satellite shows the plume in motion, and it could soon swirl across the entire continent. Sky watchers in Australia should be alert for volcanic sunsets.
ACTIVITY ON JUPITER: Earlier this year when Jupiter's great South Equatorial Belt (SEB) vanished, researchers urged amateur astronomers to be alert for its eventual return. The SEB had come and gone before, they noted, and the revival was something to behold. Alert: It might be happening now. After months of quiet in Jupiter's south equatorial zone, a white spot is rapidly forming where the SEB should be. Christopher Go of the Philippines took this picture on Nov. 9th: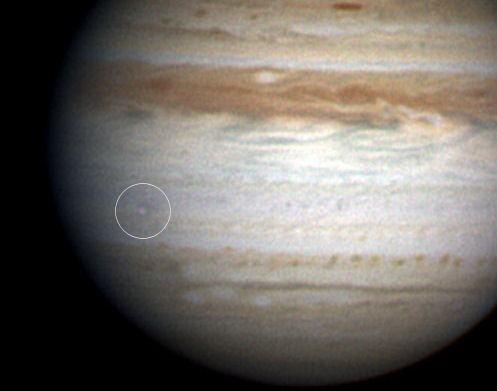 It might not look like much, but this is how a revival of the SEB begins--a small disturbance in the upper atmosphere heralds a sudden profusion of spots and swirls. Amid the confusion, Jupiter's vast brown stripe emerges.
The existence of this spot has reportedly been confirmed by astrophotographer Donald Parker of Coral Gables, Florida, and Go himself saw it again on Nov. 10th. "The 'SEB outbreak spot' is also prominent in ultraviolet and methane band filters," notes Go. "This spot should grow bigger in the coming days."
Experienced planetary photographers are encouraged to monitor Jupiter for further developments.
"MYSTERY MISSILE" LAUNCH: The buzz began in southern California on Monday night, then quickly engulfed the entire World Wide Web. A photographer onboard a CBS News heliocopter filmed an apparent missile cutting through the sunset sky west of Los Angeles on Nov. 8th--and no one would claim credit for it. The US Dept. of Defense issued this statement the next day: "All DoD entities with rocket and missile programs reported no launches, scheduled or inadvertent, during the time period in the area of the reported contrail. NORAD and USNORTHCOM confirmed that it did not monitor any foreign military missile launch off the California coast yesterday."
So what was the mystery missile? Watch the video, then scroll down for further discussion: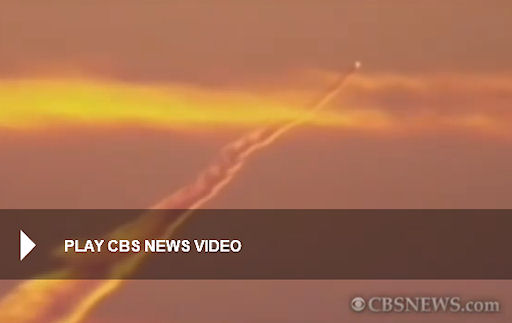 The idea of a missile near Los Angeles is not extraordinary. "Many rockets are launched from the Vandenberg Air Force Base [just up the coast from Los Angeles], and even more come from the Navy's sea range, which occupies a large swath of waters adjacent to Los Angeles and Ventura country," notes veteran rocket-photographer Brian Webb, who monitors launches in the Southern California area and sees them quite often.
Usually, however, launches are announced in advance, giving aviators and mariners time to get out of the way. "Even if an operation is hush-hush, the military will still issue appropriate safety notices," notes Webb. A totally uncredited launch is rare indeed.
There is another possibility more likely than a mystery missile: It might have been an ordinary contrail. "The airspace off of the California coast is among the busiest in the U.S.," continues Webb. "Aircraft contrails form in a region called the contrail zone. In southern California, this zone lies approximately between 33,000 and 38,000 feet. During the cooler months of the year, this region drops down in altitude to the area where many jets fly. This produces a large number of visible contrails."
"Depending on an observer's perspective, a horizontal contrail can appear to be climbing steeply and resemble a rocket or missile trail," he says.
Nov. 8th wouldn't be the first time a contrail was mis-identified. Spaceweather.com frequently receives reports of apparent comets, meteors, and decaying satellites that are really airplane exhaust lit up by the setting sun.
UPDATE: There is mounting evidence that the "missile" was in fact an airplane contrail. First, take a look at these pictures comparing the Nov. 8th event to other known airplane contrails. They all look like missiles. Second, reader Rob Matson notes that "a Boeing 757-200 from Honolulu to Phoenix flew right over Catalina Island at 37,000 feet at the time in question. Here is a map of the flight."
---
October 2010 Aurora Gallery
[previous Octobers: 2009, 2008, 2007, 2006, 2004, 2003, 2002, 2001]
Potentially Hazardous Asteroids (
PHAs
) are space rocks larger than approximately 100m that can come closer to Earth than 0.05 AU. None of the known PHAs is on a collision course with our planet, although astronomers are finding
new ones
all the time.
On November 10, 2010 there were
1164
potentially hazardous asteroids.
Notes: LD means "Lunar Distance." 1 LD = 384,401 km, the distance between Earth and the Moon. 1 LD also equals 0.00256 AU. MAG is the visual magnitude of the asteroid on the date of closest approach.
| | |
| --- | --- |
| | The official U.S. government space weather bureau |
| | |
| --- | --- |
| | The first place to look for information about sundogs, pillars, rainbows and related phenomena. |
| | |
| --- | --- |
| | Researchers call it a "Hubble for the sun." SDO is the most advanced solar observatory ever. |
| | |
| --- | --- |
| | 3D views of the sun from NASA's Solar and Terrestrial Relations Observatory |
| | |
| --- | --- |
| | Realtime and archival images of the Sun from SOHO. |
| | |
| --- | --- |
| | from the NOAA Space Environment Center |
| | |
| --- | --- |
| | the underlying science of space weather |