| | | |
| --- | --- | --- |
| ANDROID FLYBYS: Our field-tested satellite tracker is now available for Android phones. Features: Global predictions and flyby alarms! Learn more. | | |
SUNSET CONJUNCTION: Look west at sunset. Venus is passing by 1st magnitude star Regulus; they're only a little more than a degree apart. Bright Venus catches the eye first. As the glow of sunset fades, Regulus pops out of the twilight a little below Venus. The view through binoculars is superb.
SOUTH PACIFIC ECLIPSE: On Sunday, July 11th, the new Moon will pass in front of the sun, producing an eclipse of rare beauty over the South Pacific. Best observing sites include Easter Island, the Cook Islands, the waters off Tahiti, and southern parts of Chile and Argentina. [full story] [animated map] [details]
SOLAR BLAST: Magnetic fields overlying sunspot 1087 became unstable and erupted yesterday. The explosion emitted a bright flash of UV light (a C3-class solar flare) and hurled a massive plume of hot plasma away from the sun. Click on the image to watch the action unfold: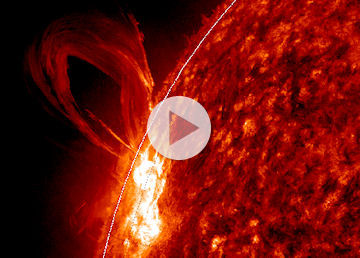 movie formats: 2 MB mpeg; 1 MB iPad; 0.7 MB iPhone
NASA's Solar Dynamics Observatory (SDO) recorded the 1.5-hour time-lapse movie beginning at 1950 UT on July 9th. SDO has been busy since sunspot 1087 materialized, recording B- and C-class flares every few hours. So far none of the eruptions has been Earth-directed, but this could change in the days ahead as the active region turns to face our planet. Stay tuned for space weather.
more images: from Cai-Uso Wohler of Bispingen, Germany; from Jan Timmermans of Valkenswaard, The Netherlands; from Didier Favre of Brétigny-sur-Orge, France; from Peter Desypris of Syros, Greece; from Andreas Murner of Rosenheim, Bavaria, Germany
NOCTILUCENT STORM: Last night, sky watchers in Europe witnessed the finest display of noctilucent clouds (NLCs) so far this year. Electric-blue tendrils spread as far south as France: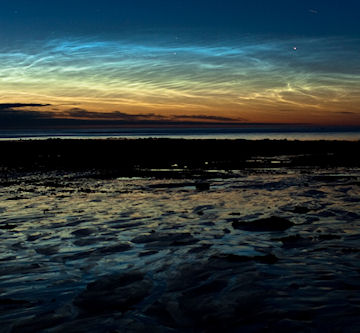 "I could see the NLCs from my window," says photographer Alexandre Croisier of Brittany, France. "So I rushed down to the beach to take this picture--a 6 second exposure with my Canon 350D."
In England, the same display stretched from horizon to horizon. "There was quite a lot of detail visible, including swirls and tiger stripes," reports Mark Jones of Leamington Spa, UK. Even city lights did not overwhelm the NLCs. "I had no trouble seeing them from southwest London," says onlooker Maurice Gavin.
July is often the best month of the year to see these mysterious clouds. High-latitude sky watchers should be alert for electric blue in the nights ahead.
more images: from George Kristiansen of Lincolnshire, UK; from Andrew J. Brown of Chelmsford Essex England UK; from Richard Fleet of Pewsey Vale, Wiltshire, England; from Dave Threlkeld of Selsey, West Sussex, UK; from Paul Money of Close to Horncastle, Lincolnshire, UK; from Jorge Sereno of Middlburg, The Netherlands; from Jason Evans of Eastleigh, Hampshire, United Kingdom; from Chris Lloyd of Kidderminster, Worcs. UK; from Pete Glastonbury of Devizes, Wiltshire, UK; from Gordon Fiander of Sheffield, South Yorkshire, England; from Katherine Leadbetter of Bedhampton, Hampshire, UK; from Keith Cooper of Leicester, England; from Jeff Stevens of Stoke-on-Trent, Staffordshire, England;