| | | |
| --- | --- | --- |
| AURORA ALERTS: Did you miss the Northern Lights of June 25th? Next time get a wake-up call from Space Weather PHONE. | | |
PAIR O' PLANETS: Tonight, Saturn and Mars converge for their closest encounter of the next 14 years. After nightfall, look west to see the planets only 3/4 of a degree apart, snug enough to fit behind the tip of your pinky finger held at arm's length: sky map.
photos: from Hassan Alsabbar of Diwaniya, Iraq; from Thierry Demange of Champ du Feu, Alsace, France
MARS ON THE MOVE: Put on your 3D glasses and behold ... a "moving rock" on Mars: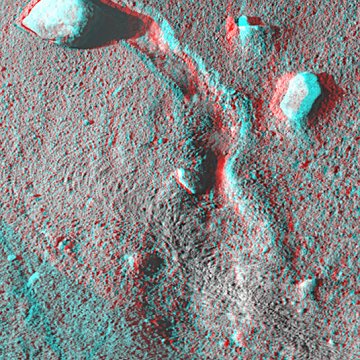 Click to view the complete scene
Graphic artist Patrick Vantunye of Belgium created the 3D anaglyph by combining right- and left-eye images from Phoenix's stereo camera. It shows a rock near the Mars lander's feet seemingly pushed some distance through the dusty soil. "It reminds me of the moving rocks of Racetrack Playa in Death Valley," says Vantuyne. Long held to be a mystery, those Death Valley rocks are now thought to travel by means of wind propulsion, skidding along a desert floor momentarily slick after rainstorms. What moved this Mars rock? Possibilities include Phoenix's landing thrusters, martian wind, a nudge from Phoenix's robotic arm, and of course the unknown. Solutions are welcomed.
EXTRA: A second moving rock has come to our attention. Click here to view the rock and its location with respect to the Phoenix lander.
A TELESCOPE MADE OF MOONDUST: This may look like an ordinary 12-inch parabolic mirror, the kind found in many backyard telescopes, but it's not: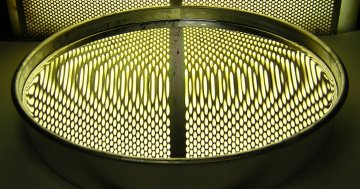 This mirror is made of moondust.
NASA scientist Peter Chen has discovered a new recipe for making telescopes: Mix moondust with epoxy, add a dash of carbon nanotubes, and spin. The result is a parabolic mirror perfectly suited for a lunar observatory. To prove it could be done, Chen made the "moondust mirror" pictured above in his Maryland laboratory. The same technique, he argues, could be used to fashion giant 50-meter telescopes on the Moon--big enough to analyze the chemistry of individual planets around other stars and search them for signs of life. Science@NASA has the full story.
---