SHATTERED PLANET? NASA's twin STEREO probes are entering a mysterious region of space to look for remains of an ancient planet which might have orbited the Sun not far from Earth. If they find anything, it could solve a major puzzle--the origin of the Moon. Get the full story from Science@NASA
LUNAR HEAD BUMP: When the Moon is full, wear a helmet. Otherwise this could happen to you: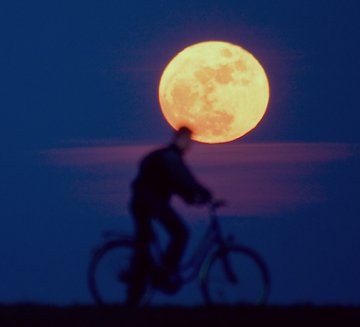 Photo details: Nikon D700, exp.1 sec, lens 500 mm, ASA 800
Bumping heads with a 1023-pound ball of moonrock is no fun!
Actually, it was all fun, according to photographer Marek Nikodem, who watched last night's full Moon rise over a bike path in Szubin, Poland. "I took this picture using my Nikon D700. It didn't hurt a bit."
more images: from Elias Chasiotis of Keratea, Greece; from Dennis Put of Brielle, Zuid-Holland, The Netherlands; from Doug Zubenel of Lenexa, Kansas; from Abraham Tamas of Zsámbék, Hungary;
COMET Yi-SWAN: It's up all night long. Northern circumpolar Comet Yi-SWAN is gliding through the constellation Cassiopeia where it can be seen at almost any hour of the night through amateur telescopes. Working at his backyard observatory in Ellisville, Missouri, Gregg Ruppel took this picture on April 9th: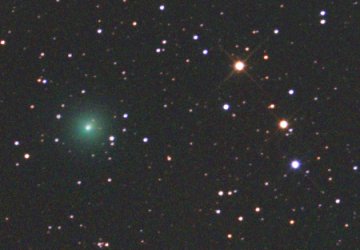 At the moment, the green, fuzzy comet is about as bright as an 8th-magnitude star--too dim for the naked eye. If predictions are correct, it will remain a telescopic comet, brightening only a little as it approaches the sun for a 190 million kilometer not-so-close encounter on May 8th. Astronomers will get a better look at the comet in the evenings ahead as the bright light of the full Moon fades.
Comet Yi-SWAN was co-discovered by amateur astronomers Dae-am Yi in Korea and Rob Matson in the USA. Yi photographed the comet himself using a Canon 5D and a 90 mm lens. Matson noticed it in images taken by the Solar and Heliospheric Observatory's SWAN sensor. Because of naming traditions (which should probably be modified) the comet bears SWAN's name, not Matson's.
This appears to be Comet Yi-SWAN's first visit to the inner solar system. A fresh comet exposed to intense sunlight for the first time can behave in unexpected ways. Will it grow a tail, fragment, brighten ... ? Stay tuned for updates.
related links: 3D orbit, ephemeris
---
---
April 2009 Aurora Gallery
[previous Aprils: 2008, 2007, 2006, 2005, 2004, 2003, 2002]