LUNAR IMPACT--DUD OR MUD? NASA's water-seeking LCROSS spacecraft and its Centaur booster rocket hit the floor of crater Cabeus this morning, but they did not make the kind of bright flashes many observers had hoped for. Some observers went so far as to call the event "a dud." In Sacramento, California, amateur astronomer Ed Lomeli had his telescope trained on Cabeus and he recorded nothing but static lunar terrain: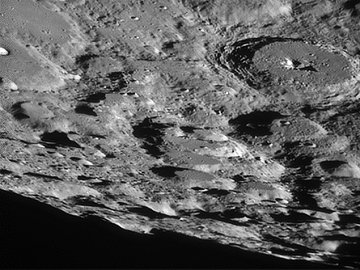 "I was a little disappointed not seeing a flash and a plume. Maybe LCROSS hit mud!" he laughs. "I hope the spacecraft's cameras saw something we missed."
Indeed they did. When the Centaur hit the crater floor, infrared cameras onboard the LCROSS mothership recorded a flash of heat and spectrometers detected sodium in the debris cloud. The appearance of sodium was a surprise--perhaps the first of many to come from this unprecedented experiment. Mission scientists have not yet had a chance to fully examine the LCROSS spectra for signs of water, but "we will be working on this feverishly today," said mission leader Tony Colaprete at a post-impact NASA press conference.
The low brightness of the flash did not dim the enthusiasm of thousands of people around the world who stayed up late for lunar impact parties. At the Sci-Quest science museum in Huntsville, Alabama, about a hundred kids and parents gathered to watch the show. "We donned our party hats, blew our noise makers and waited for the impact," says science writer Dauna Coulter. NASA photographer David Higginbotham documented the scene: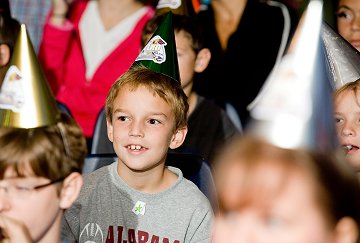 "The actual footage was a bit of an anti-climax," notes Coulter, "but that didn't dampen the spirit of the attendees!"
amateur images: from Paul Schneider of Tucson, Arizona; from Ed Lomeli of Sacramento, California; from Mike Broussard of Maurice, Louisiana;
More Lunar Impact Resources:
---
Sept. 2009 Aurora Gallery
[previous Septembers: 2008, 2007, 2006, 2005, 2004, 2002, 2001]
---