WHAT'S FOLLOWING THE ISS? Sky watchers are reporting a "mysterious satellite" following the International Space Station. It trails the ISS by about one minute, relatively faint, but definitely there. Mystery solved: The follower is Progress 33, a Russian supply ship. On July 12th, it will come within meters of the space station to test a new automated docking system. Check the Simple Satellite Tracker for flyby times--and get two spaceships for the price of one.
images: from Ralf Vandebergh of Wittem, the Netherlands; from Jun Lao of Deerfield Township, Ohio
RESURGENT SUNSPOT: Yesterday, sunspot 1024 took the day off; the fast-growing active region stopped growing and even decayed a little. Today, the sunspot is growing again: movie. It now measures 125,000 km from end to end, almost as wide as the planet Jupiter. Fulvio Mete sends this picture from his backyard observatory in Rome, Italy: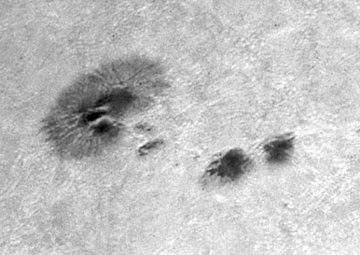 The size of the spot makes it a fine target for amateur solar telescopes. And it is worth watching. Sunspot 1024 is the first big sunspot of new Solar Cycle 24, and it is crackling with minor but photogenic B-class flares. By itself, this one active region won't bring an end to the deepest solar minimum in a century, but it does show that the sun's magnetic dynamo is still working--a fact some had begun to doubt. More sunspots are coming, so stay tuned.
more images: from Stefano Sello of Pisa, Italy; from Andy Yeung of Hong Kong; from John Nassr of Baguio, Philippines; from Ehsan Rostamizadeh of Kerman, Iran; from Pavol Rapavy of Observatory Rimavska Sobota, Slovakia; from Steve Wainwright of Swansea South Wales, UK; from Keith Davies of Swansea, South Wales, United Kingdom; from David Leong of Hong Kong; from Peter Desypris on the Island of Syros, Greece;
BLUE MOON OVER IRAN: A severe dust storm so large that it is visible from space is blowing across Iran. Government officials have closed schools, cancelled flights, and warned the elderly and children to stay indoors. The only good thing about the storm is that it is turning the Moon a pleasing shade of blue: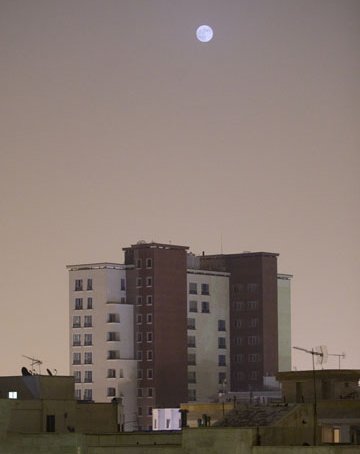 Amir H. Abolfath took the picture from Tehran on July 7th. "I thought blue moons were a myth," he says, "but there it was."
Yes, blue moons are real. They appear when the air is filled with fine particles of dust (or other aerosols) about 1 micron in diameter. This is just the right size to make dusty air act as a blue color filter. Because the dust storm is so large, blue moons could be a regular fixture in the Persian sky for some nights to come.
more images: from Farzad Zamanfar of Tehran, Iran; from Mohamad Soltanolkottabi of Esfahan, Iran;
---
2009 Sarychev Sunset Gallery
[See also: 2008 Kasatochi Sunset Photo Gallery]
---
2009 Noctilucent Photo Gallery
[previous years: 2008, 2007, 2006, 2005, 2004, 2003]
---