What's the name of that star? Where's Saturn? Get the answers from mySKY--a fun new astronomy helper from Meade.
ASTEROID FLYBY: Today, famous asteroid 1862 Apollo is flying past Earth at a distance of 10.7 million kilometers. Discovered in 1932, Apollo was the first asteroid recognized to cross Earth's orbit. This helped astronomers understand that the asteroid threat didn't end with the dinosaurs; it's a modern problem, too. Apollo measures 1.7 km wide and has a tiny 75 meter wide moon. Together they shine like a 13th magnitude star. Tonight, southern hemisphere astronomers with big backyard telescopes may be able to photograph the pair gliding through the constellation Grus: ephemeris.
FANTASTIC FAREWELL: Sunspot 953 is rolling over the sun's western horizon today, and "I thought I should take one last look before it goes," says artist Mark Seibold of Troutdale, Oregon. He made this pastel sketch of the view through his Coronado SolarMax40: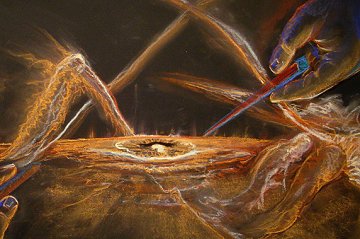 Click to view the complete painting
"I could easily see the dark sunspot surrounded by white-hot roiling plasma," says Seibold. "By carefully tuning the H-alpha filter, I was able to sharpen the filaments and prominences on either side of the spot. It was a three ring circus of activity."
Today is the last day for viewing sunspot 953. If you have a solar telescope, take a look!
more images: from James Witt of Phoenix, Arizona; from B. Morrissette, T. Johnstone and J. Stetson of South Portland, Maine.
IN BROAD DAYLIGHT: Yesterday in the skies above southern France, the International Space Station (ISS) passed extremely close to the planet Venus. Etienne Simian of Saint Martin de Crau photographed the encounter in broad daylight: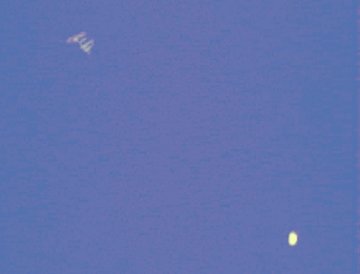 Photo details: Philips Vesta Pro webcam and an 8" Celestron telescope.
"The sun was 45° above the horizon and Venus was on the noon meridian. This was full daylight," he says.
The photo shows at a glance how the ISS has grown. It began in 1998 as a single orbiting module barely visible in the night sky. Since then, spacewalking astronauts have spent 498 hours assembling components delivered by 20 shuttle flights. Now the station is a sprawling complex with 240-ft wide solar wings and a living volume of 15,000 cubic feet. This makes it a daytime celestial object as bright as Venus herself.
Would you like to know when the ISS is about to fly over your hometown? Check Heaven's Above for local predictions or simply let Dr. Tony Phillips call you when it's time to go outside and look.