| | | |
| --- | --- | --- |
| Thirty-five new items have just been added to our Meteorite Jewelry collection. Browse the Space Weather Store for something out of this world. | | |
QUIET SUN: For the third day in a row, solar activity is very low. All of the sunspots on the Earthside of the sun are quiet, leading NOAA forecasters to put the daily odds of strong flares at no more than 1%. Solar flare alerts: text, voice.
JUPITER IN A SPOON: Jupiter is supposed to be a giant planet. Yet on Dec. 3rd, Frankie Lucena of Cabo Rojo, Puerto Rico, found it contained entirely inside a kitchen spoon. "Jupiter is so bright," he says, "that I caught it reflecting from a spoon filled with vegetable oil inside by my cast iron skillet."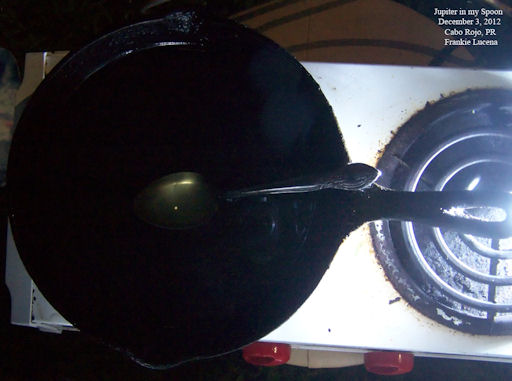 Catching Jupiter in a spoon is possible this month because Jupiter is having a close encounter with Earth--the closest until 2021. The giant planet rises in the east at sunset, brighter than any other "star" in the sky, so bright that its reflection can be found in unusual places. For readers who would like to try this at home, Lucena notes that he took the picture using an off-the-shelf digital camera set at ISO 400 for 8 seconds. [sky map]
Bonus physics: What if you did compress Jupiter to the size of a teaspoon? It would become a black hole. The Schwarzschild Radius of Jupiter is approximately 3 meters. Any object squeezed into a space smaller than its Schwarzschild Radius becomes a black hole. Luckily for Lucena, the planet in his kitchen was just a reflection.
Realtime Jupiter Photo Gallery
GHOSTLY WHITE RAINBOW: Dec. 1st was a foggy night in Little Sioux, Iowa. Nevertheless, Evan Ludes decided to go outside to photograph the nearly-full Moon (and "to play in the fog," he says). The Moon was high and bright, as expected, and when he finished snapping the lunar disk, he turned around to find this ghostly white rainbow behind his back: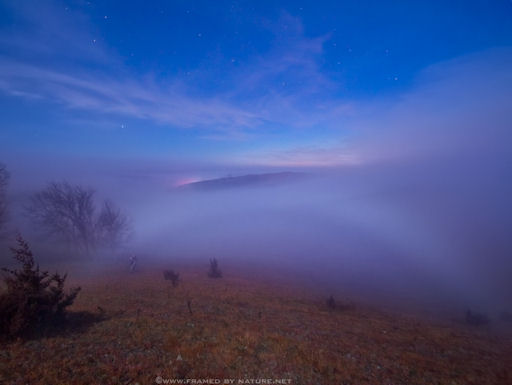 "It was a lunar fogbow," explains Ludes.
Fogbows are sometimes called "white rainbows," and that's about right. Both rainbows and fogbows are caused by light reflected from water droplets. When the droplets are large (rain), they act like prisms, spreading the colors wide for easy visibility. When the droplets are small (fog), the prism-action is reduced, and colors are smeared together into a ghostly-white arc.
"I also saw a fogbow created by our headlights," he adds. "It was incredibly bright visually, and this was my first time ever seeing one!"
Realtime Space Weather Photo Gallery
---
---
Realtime Noctilucent Cloud Photo Gallery
[previous years: 2003, 2004, 2005, 2006, 2007, 2008, 2009, 2011]