| | | |
| --- | --- | --- |
| iPHONE VS ANDROID! Actually, it doesn't matter which phone you carry. Our cool, new app turns both smartphones into field-tested satellite trackers. Learn more. | | |
PLANETS ALIGN FOR THE PERSEIDS: Mark your calendar: On Thursday, August 12th, an alignment of planets in the sunset sky will kick off the finest meteor shower of 2010, the Perseids. Get the full story from Science@NASA.
THE SHOW IS OVER ... FOR NOW: Geomagnetic activity has subsided to low levels and the aurora show of August 3rd and 4th has come to an end. At the height of the display, Northern Lights descended as far south as Wisconsin and Iowa in the United States. And not all the lights were Northern. Tom Luttrell sends this picture from Australia's Casey Station on the coast of Antarctica: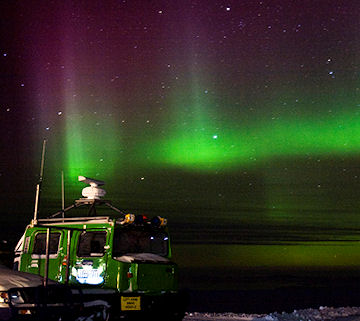 "We missed the major part of the storm--wrong side of the planet--but still caught some bright Southern Lights after the sun went down," says Luttrell.
All in all, it was the best aurora display of the year and the finest of young Solar Cycle 24. As solar activity climbs toward a maximum in 2013, this kind of event will become increasingly commonplace, happening on a monthly and even weekly basis. Are you ready?
NEW IMAGES: August 2010 Northern Lights Gallery
[previous Augusts: 2009, 2008, 2007, 2006, 2005, 2004, 2003]
EARLY PERSEID FIREBALL: This week, Earth is entering a stream of dusty debris from Comet Swift-Tuttle, the parent of the annual Perseid meteor shower. We're only in the outskirts of the stream now. The shower won't peak until August 12th and 13th when we're much deeper inside. Nevertheless, sky watchers are already seeing some early Perseids. This one, recorded by a NASA meteor camera in Alabama on August 3rd, was a doozy: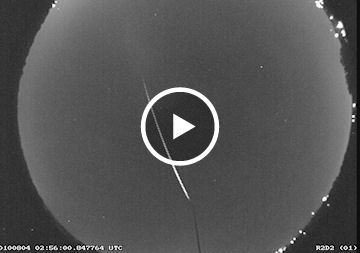 Click to view a 1 MB Quicktime movie
"On Monday night, a Perseid meteoroid, about 1 inch in diameter and traveling at 134,000 mph, entered the atmosphere 70 miles above Paint Rock, Alabama," reports Bill Cooke of NASA's Marshall Space Flight Center. "Moving at such a tremendous speed, the meteor cut a path some 65 miles long above that state, finally burning up 56 miles above Macay Lake. It was 6 times brighter than the planet Venus--a good start to the Perseid meteor shower!"
Stay tuned for more Perseids as Earth moves deeper into the debris stream.
more Perseids: from Rainer of San Luis Potosi, SLP, Mexico; from Milan Karakas of Vinkovci, Croatia; from Martin Popek of Nýdek, Czech republic;
---
Solar Eclipse Photo Gallery
[NASA: South Pacific Eclipse] [animated map]