| | | |
| --- | --- | --- |
| SATELLITE FLYBYS APP: Turn your iPhone or iPod into a field-tested satellite tracker! Spaceweather.com presents the Satellite Flybys app. | | |
SPACE STATION FLYBYS: The International Space Station (ISS) is flying over North American towns and cities this week. It is very bright and easy to see in the night sky. Check the Simple Satellite Tracker to see if you are favored with a flyby.
flyby images: from Ed Sweeney in the Santa Cruz Mountains of CA
FIRST AURORAS OF 2010: Last night, for the first time this year, the clouds parted over Pangnirtung, an Inuit village on Baffin Island in the Canadian Arctic, and the auroras came out to play: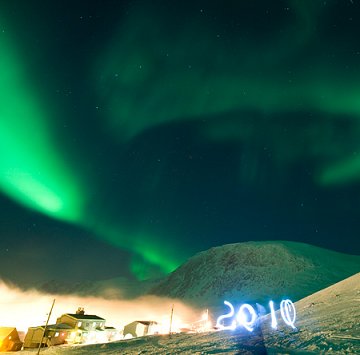 "Mild temperatures at this time of year created a heavy ice fog which blanketed the community, while the Northern Lights danced over head," reports photographer Claus Vogel. "A couple of kids came over to investigate what I was doing, and within a few minutes they were trying their hands at aurora photography. We even played with the flashlight to write 2010."
The lights were sparked by a knot of solar magnetism that wafted past Earth in the solar wind. The south-pointing magnetic field from the sun partially cancelled the north-pointing magnetic field of Earth. Solar wind poured through the breach and fueled the display.
Says Vogel, "here's to more astronomical wonders in the year ahead!"
NEW: January Northern Lights Gallery
[previous Januarys: 2009, 2008, 2007, 2005, 2004, 2001]
SOLAR ACTIVITY: Yesterday, January 5th, something exploded on the back side of the sun and hurled a coronal mass ejection (CME) into space. Click on the SOHO image to see the billion-ton cloud in motion: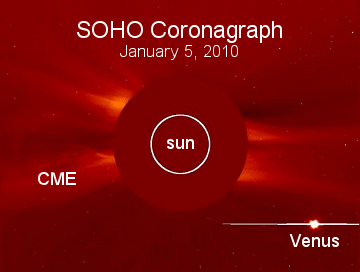 The source of the blast was probably one of several regions currently located behind the sun's eastern limb. NASA's STEREO-B spacecraft is monitoring three old sunspots there--AR1035, AR1036 and AR1038. The emergent latitude of the CME best matches that of AR1036, which will turn to face Earth in a few days. Stay tuned for solar activity.
more images: from Howard Eskildsen of Ocala, Florida
---