SOUTHERN METEOR SHOWER: Earth is entering a stream of dusty debris from Halley's Comet, the source of the annual eta Aquarid meteor shower. Forecasters expect the shower to peak on Wednesday morning, May 6th, with as many as 85 meteors per hour over the southern hemisphere. Rates in the northern hemisphere will be less, 20 to 30 per hour. The best time to look is during the dark moonless hour before local sunrise. [details and sky maps]
THE SUN IS STIRRING: The face of the sun is blank--no sunspots--but this could soon change. NASA's STEREO-B spacecraft is monitoring a new active region hidden behind the sun's eastern limb. Earlier today, it produced an impressive coronal mass ejection (CME, movie) and a strong Type II radio burst. This image from STEREO's extreme UV telescope shows the region just after the explosion: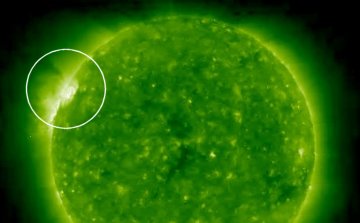 At the root of all this activity is probably a large sunspot. Its high latitude identifies it as a member of new Solar Cycle 24. The putative sunspot is not yet visible from Earth, but the sun is turning the region toward us for a better view. Readers with solar telescopes should keep an eye on sun's northeastern limb for a possible emergence on May 7th or 8th.
MASSIVE BUG INVADES JUPITER: Astrophotographer Mike Salway of Central Coast, Australia, has witnessed a shocking event on our solar system's largest planet. "I was imaging Jupiter on the morning of May 2nd," he says. "You can imagine my surprise when a massive bug at least 3 times the size of the Earth invaded Jupiter! Watch the video to see the attack unfold."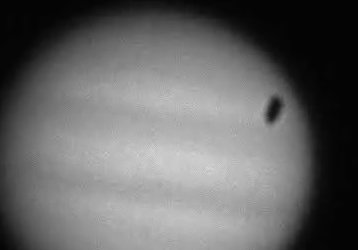 Click to play: avi (0.4 MB) or gif (4 MB)
"Things were looking grim for the Jovians as the creature traversed the gas giant, consuming white spots and feeding on power generated by Jupiter's criss-crossing jet streams," recounts Salway. "Did the bug wipe out Jupiter, or did the Jovians repel the 6-legged invader?" A follow-up photo taken an hour later revealed Jupiter still intact. "It turns out the invader was just an insect on the mirror of my 12-inch Newtonian telescope."
(Entomologists, can you identify the species from its silhouette? Clue: It lives in a telescope. Answers welcomed.)
---
April 2009 Aurora Gallery
[previous Aprils: 2008, 2007, 2006, 2005, 2004, 2003, 2002]
---