| | | |
| --- | --- | --- |
| ANDROID FLYBYS: Our field-tested satellite tracker is now available for Android phones. Features: Global predictions and flyby alarms! Learn more. | | |
PROGRESS 38 DOCKED: Two time's a charm. Russia's Progress 38 supply ship docked to the ISS at 12:17 pm EDT on Sunday, July 4th. The Progress 38 had earlier failed to latch onto the ISS when TV signals from a transmitter in the space station's Zvezda module interfered with the automated docking system. Get the full story from NASA.
4TH OF JULY FIREWORKS: It has been a busy weekend on the sun. So far the Solar and Heliospheric Observatory (SOHO) has recorded no fewer than five CMEs blasting out of the sun's atmosphere. Click on the image to set the clouds in motion: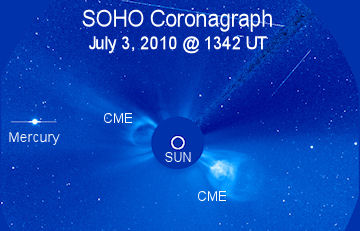 Movies: 3 MB gif, 1.5 MB gif, 1.0 MB iPad, 0.6 MB iPhone
The two brightest CMEs, pictured above, were caused by eruptions of unrelated magnetic filaments on opposite sides of the sun. The origin of the other three CMEs in the movie remains uncertain. None of the clouds appears to be heading toward Earth; the display was photogenic, but not geoeffective.
Stay tuned for follow-up movies from the Solar Dynamics Observatory, which should reveal some of the blast sites in greater detail.
NOCTILUCENT DAWN: This morning's sunrise over the UK was highlighted by an unusual color: electric blue. "We had a bright display of noctilucent clouds on July 4th," reports Pete Lawrence, who sends this snapshot from the south coast of England.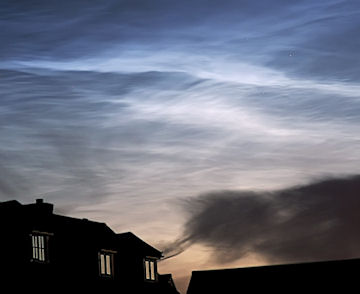 "This is the first really vivid electric blue display for me this year," says Lawrence. "I'm keeping my fingers crossed for more in the coming days."
He's likely to get his wish. Summer is the season for NLCs, and the recent solstice has kicked off a period of high activity. Indeed, the mysterious clouds were so bright over Northern Ireland on July 3rd, they could be seen reflecting from the River Bann. In Sweden, photographer P-M Hedén made a time-lapse movie of the clouds "rumbling in" over a busy horse pasture outside Vallentuna. "They were all over the sky--even in the south!" he says. High-latitude sky watchers should remain alert for electric blue.
Observing tips: Look west 30 to 60 minutes after sunset or before sunrise when the sun is 6o to 16o below the horizon. If you see luminous blue-white tendrils spreading across the sky, you may have spotted a noctilucent cloud.
more images: from Hazel Mulheron of Widley, Hampshire; from Grant Privett of Fovant, Wiltshire, UK; from Martin Stirland of Winterton On Sea, Norfolk, England; from Ken Osborne of Nr Ilminster, Somerset;
---
Lunar Eclipse Photo Gallery
[Science@NASA: Big Lunar Eclipse] [astronomy alerts]
---
May 2010 Aurora Gallery
[previous Mays: 2008, 2005, 2004, 2003, 2002] [aurora alerts]