EARTH AT APHELION: Earth circles the sun, right? Not exactly. Earth's orbit is an ellipse, not a circle, which means the sun-Earth distance varies throughout the year. On July 3rd and 4th, Earth is at "aphelion," the most distant point in its orbit. Around this time, the sun looks about 1.7% smaller and sunlight is 3.4% less intense than the annual average. But don't expect any relief from the heat: full story.
SWIRLING SULFUR DIOXIDE: A massive plume of ash and sulfur dioxide expelled by Russia's Sarychev Peak volcano on June 12th is swirling through the stratosphere over the northern hemisphere. Europe's MetOpA satellite is monitoring the SO2, colored red in this 5-day animation spanning June 25th through 30th: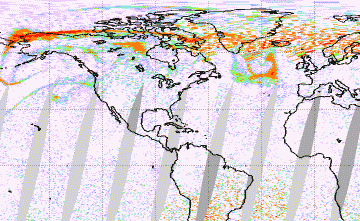 Sarychev's emissions are causing some beautiful sunsets. Here's what to look for: When the sun goes down, delicate ripples of white appear over the western horizon. The ripples are volcanic aerosols--a mixture of ash and sulfur compounds. Then, as twilight deepens, the sky turns a lovely shade of "volcanic lavender." Lavender is what you get when you mix blue light scattered by fine aerosols with ordinary red sunset rays.
Is a plume passing over your area tonight? Keep an eye on the western sky for Sarychev sunsets.
2009 Sarychev Sunset Gallery
[See also: 2008 Kasatochi Sunset Photo Gallery]
GEO-FLARE: One night last month, Miroslav Grnja of Bratislava, Slovakia, opened the shutter of his camera (a Canon 400D) and settled back to watch the stars go by. He was looking forward to recording a nice set of star trails--but one of stars refused to move: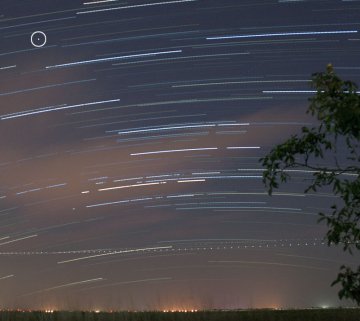 "At first I thought I had a hot pixel in my camera," says Grnja. "Upon closer inspection, however, I realized I had photographed a geostationary satellite." Geostationary satellites (geosats) remain fixed above one point on Earth's surface, so they do not move with the stars.

Usually, geosats are too dim to show up in star-trail photos. This one was different. "It flared," says Grnja who made a movie of the flash by stiching together consecutive 90-second exposures. "The satellite brightened to magnitude +2 as sunlight glinted from one of its flat surfaces--perhaps an antenna or a solar panel."

Which geosat was it? Grnja has narrowed the possibilities to two: "E-BIRD (27948 2003-043-A) and Intelsat 802 (26038 1997-031-A) were both in that part of the sky during my photo-shoot." Satellite observers may wish to keep an eye on these birds for future outbursts.
---
2009 Noctilucent Photo Gallery
[previous years: 2008, 2007, 2006, 2005, 2004, 2003]
---