| | | |
| --- | --- | --- |
| Turn your cell phone into a field-tested satellite tracker. Works for Android and iPhone. | | |
SUBSIDING STORM: Earth is exiting a solar wind stream that has been stirring up geomagnetic storms around Earth's poles since April 29th. Over the past few nights, observers have seen auroras over the South Pole, Germany, Wisconsin and Michigan. The chances for more auroras are subsiding as Earth exits the stream.
SDO SOLAR ECLIPSE: There was no eclipse on Earth, today, but there was one in Earth orbit. More than 22,000 miles above the planet's surface, NASA's Solar Dynamics Observatory watched the Moon pass almost directly in front of the sun: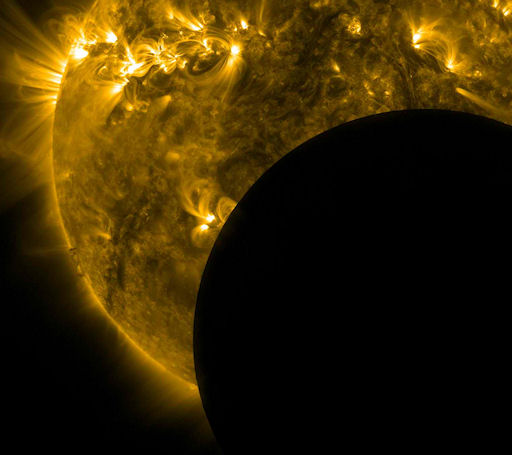 Look at the full-sized image and trace your finger around the Moon's limb. Thanks to the high resolution of SDO's 16 megapixel cameras, you can actually count jagged mountains backlit by the sun's atmosphere.
Beyond the novelty of observing a such an event from space, these images have practical value to the SDO science team. Karel Schrijver of Lockheed-Martin's Solar and Astrophysics Lab explains: "The very sharp edge of the lunar limb allows us to measure the in-orbit characteristics of the telescope--e.g., light diffraction on optics and filter support grids. Once these are characterized, we can use that information to correct our data for instrumental effects and sharpen up the images to even more detail."
Movie formats: 0.4 MB iPad; 0.8 MB mpeg; 0.1 MB iPhone;
MORNING PLANETS: The Great Morning Planet Show of May 2011 is underway. Every morning for the rest of this month, you can see a beautiful gathering of four planets in the eastern sky. They are Mars, Jupiter, Venus and Mercury, shown here on May 1st over Magnetic Island in east Australia: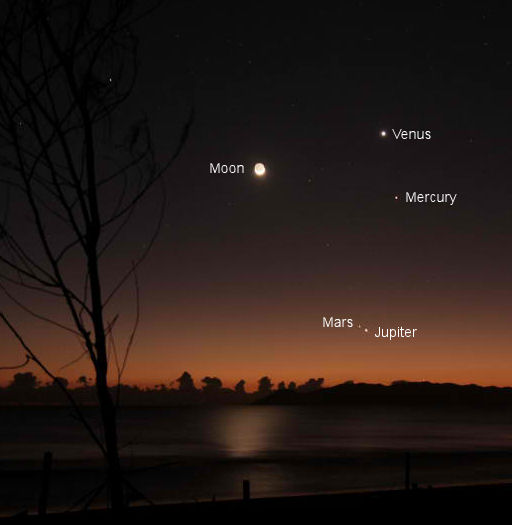 "This is beautiful sight before dawn," says photographer Liz Gleeson. "Venus and Mercury have been visible for a couple of weeks, but now Mars and Jupiter have joined them for a four-way conjunction."
An animation from Sky & Telescope shows what is in store for the rest of the month. The quartet of worlds will rearrange themselves on a daily basis, forming different shapes in the pre-dawn sky. The best mornings are the ones around May 11th, when Venus and Jupiter converge to form a tight pair. They are so bright, they might fool you into thinking you've witnessed a double supernova beaming through the morning twilight. But, no, it's just the two brightest planets in our own solar system.
Stay tuned for a whole month of morning marvels!
more images: from Simon Chan of Perth, Western Australia; from Stephen Mudge of Brisbane, Queensland, Australia
---
April 2011 Aurora Gallery
[previous Aprils: 2010, 2009, 2008, 2007, 2006, 2005, 2004, 2003, 2002]