| | | |
| --- | --- | --- |
| Where's Saturn? Is that a UFO--or the ISS? What's the name of that star? Get the answers from mySKY--a fun new astronomy helper from Meade. | | |
AURORA WATCH: Earth is exiting a solar wind stream that sparked beautiful Northern Lights over the weekend: gallery. The display is subsiding, but another solar wind stream is en route. Sky watchers in Alaska, Canada and Scandinavia should be alert for more auroras when it arrives on or about March 6th.
PHOTO-OP: Comet 17P/Holmes is having a close encounter with the California Nebula. "This pale ghost of a comet makes the brilliant red of my home state's nebula seem that much more intense," says Richard Nolthenius of Bonny Doon, California, who photographed the pair on March 1st: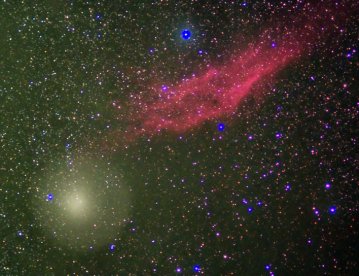 "On the evenings of March 7th and 8th, Holmes will pass just 'offshore of San Francisco' in the nebula," adds Doug Zubenel of Linn County, Kansas, who labels his own snapshot "California Dreaming." This will be a wonderful photo-op for astronomers with wide-field telescopes. The duo is easy to find; after sunset, just point your optics north at the constellation Perseus: sky map, ephemeris.
more images: from Jack Newton of the Arizona Sky Village; from Michael Jäger of Stixendorf, Austria
RING AROUND THE SUN: Ice in the sky: you know its there when a luminous ring forms around the Sun. William McMullen sends this picture from Ottawa, Ontario: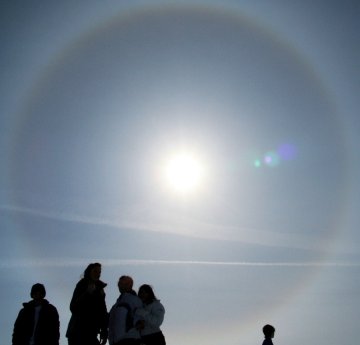 Photo details: Canon Rebel XT, ISO 200, 1/1000 sec
"The sky has been full of cirrus clouds the past few days, and we've seen lots of 22o sun halos," he says. "This one appeared in the early afternoon of Feb. 29th."
Cirrus clouds are fertile ground for this phenomenon. They are wispy enough to admit sunlight and icy enough to do something with it: Cirrus ice crystals reflect and refract sun beams, forming lovely rings, arcs and pillars. Such ice halos are even more common than rainbows. They can be seen on average twice a week in Europe and parts of the United States.
more images: from Tammy MacKenzie of Perth, Ontario, Canada; from Evelyn Lockwood of Frankfort, Kentucky; from Mike Lynch of Lexington, Kentucky; from Vincent Elder of Austin, Minnesota; from Michael French at the Kennedy Space Center, Florida; from Patrick Malriat of Doylestown, Pennsylvania;
---
Lunar Eclipse Photo Gallery
[Interactive World Map of Eclipse Photos]