| | | |
| --- | --- | --- |
| Metallic photos of the sun by renowned photographer Greg Piepol bring together the best of art and science. Buy one or a whole set. They make a stellar gift. | | |
SOUTHERN AURORA WATCH: NOAA forecasters estimate a 35% - 40% chance of mild geomagnetic activity on July 2nd when a solar wind stream is expected to hit Earth's magnetic field. High-latitude sky watchers, particularly those in the winter-dark southern hemisphere, should be alert for auroras.
NLCs INVADE THE USA: Last night, a bank of rippling electric-blue noctilucent clouds spilled across the Canadian border into the lower United States. In doing so, the clouds made their farthest excursion of the year away from the Arctic, their usual environment. "These were the most brilliant NLCs I have ever witnessed!" reports Steven Rosenow, who sends this picture from Washington state: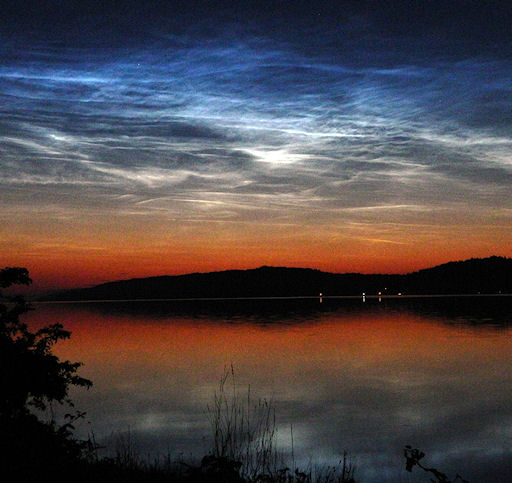 "I took my camera to a spot along Washington's Hood Canal for a panoramic view," says Rosenow. "It was a visually stunning display that stretched as far as the eye could see." NLC reports are also coming in from Oregon, Montana, North and South Dakota, and Minnesota, and in Europe as far south as France. (Stay tuned for updates.)
Back in the 19th century, these mysterious clouds were confined to polar regions. In recent years, however, NLCs have spread toward the equator, appearing in places such as Utah, Colorado, and perhaps even Virginia. Is this a sign of climate change? Some researchers think so. Sky watchers at all latitudes are encouraged to be alert for electric blue just after sunset or before sunrise; observing tips may be found in the 2011 NLC gallery.
UPDATED: 2011 Noctilucent Cloud Gallery
[previous years: 2003, 2004, 2005, 2006, 2007, 2008, 2009]
REMOTE ECLIPSE SEEN FROM SPACE: Last week, Spaceweather.com offered a whimsical $50 reward to anyone who photographed the partial solar eclipse of July 1st. Visible only from a remote patch of ocean off the coast of Antarctica, the celestial event would likely be seen by no one at all. Nevertheless, the eclipse was photographed. High above Earth, Europe's Proba-2 satellite took this picture of the Moon taking a bite out of the sun: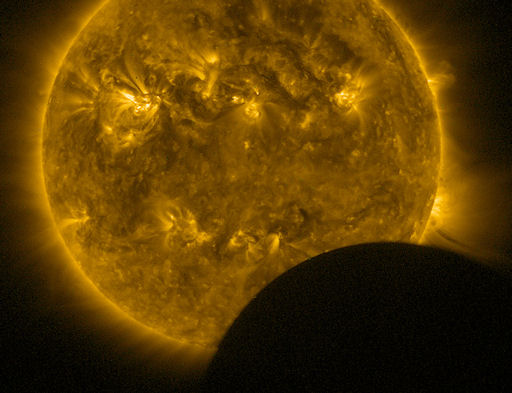 Launched in November 2009, Proba-2 is a small satellite, about a cubic meter in volume, packed with experimental technologies being tested for future space missions. Proba-2 also contains four sensors for regular monitoring of solar activity. One of the them, the SWAP ultraviolet telescope, recorded the eclipse. This isn't the first time Proba-2 has filmed an eclipse: see also Jan. 15, 2010.
Members of the Proba-2 solar science team at the Royal Observatory of Belgium may collect their $50 prize by emailing the webmaster.
June 2011 Aurora Gallery
[Aurora alerts: text, voice] [previous Junes: 2010, 2008, 2001]
---