| | | |
| --- | --- | --- |
| ANDROID FLYBYS: Our field-tested satellite tracker is now available for Android phones. Features: Global predictions and flyby alarms! Learn more. | | |
WEEKEND SKY SHOW: Jupiter and the Moon are gathering in Pisces for a beautiful weekend sky show. Look south at sunrise to see the two heavenly beacons less than 10o apart. They are so bright, you can see them even after the sky turns twilight blue--indeed, that is the most beautiful time to look. Morning sky maps: July 3, July 4.
PINWHEEL SUNSPOT: The dark core of sunspot 1084 is twice as wide as Earth itself. More impressive, however, is the enormous swirl of hot gas and magnetic fields suspended overhead. Today's extreme UV image from NASA's Solar Dynamics Observatory reveals the sunspot's pinwheel canopy: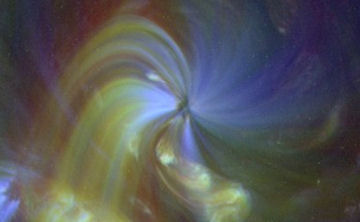 This magnetic architecture must be stable, because sunspot 1084 is remarkably quiet. There hasn't been the slightest hint of a flare from this "active" region for the past two days. It is, however, photogenic. Readers with solar telescopes are encouraged to take a look.
more images: from Rogerio Marcon of Campinas SP Brasil; from Jo Dahlmans of the Netherlands; from Roy McCullough of Youngstown, Ohio; from Peter Desypris of Island of Syros, Greece;
COMET McNAUGHT: Today, Comet McNaught (C/2009 R1) is making its closest approach to the sun (0.4 AU). Solar heating is furiously vaporizing the comet's icy core and undoubtedly brightening the first-time visitor from the outer solar system. Unfortunately, we can see very little of the action because it is happening on the far side of the sun. Rudi Dobesberger and Hermann Weixlbaum were lucky to catch the comet just after sunset on June 29th: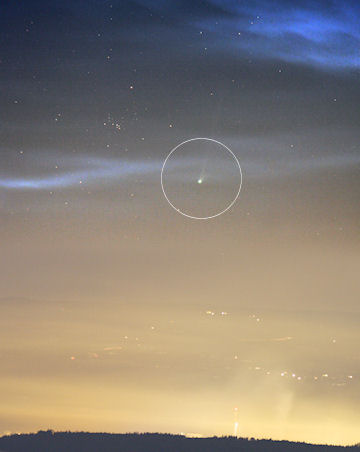 Their photo shows Comet McNaught shining through the waning glow of sunset and the city lights of Aschach, Austria. If only it were high in the midnight sky! "We took the picture using a Canon 40D and a 70mm (2 3/4 inch) refracting telescope," says Dobesberger. "After the comet set, a bank of noctilucent clouds appeared. It was a very nice evening."
After today, the comet will recede from the sun and begin to fade. Solar glare will continue to hinder observations for the rest of July, so this could be our last look at Comet McNaught. Don't worry though, it's only a matter of time before prolific comet hunter Robert McNaught finds another one to take its place. Stay tuned!
---
Lunar Eclipse Photo Gallery
[Science@NASA: Big Lunar Eclipse] [astronomy alerts]
---
May 2010 Aurora Gallery
[previous Mays: 2008, 2005, 2004, 2003, 2002] [aurora alerts]