| | | |
| --- | --- | --- |
| Are we alone? Your iPhone has the answer. Download the all-new Drake Equation app to calculate the population of the Milky Way. | | |
RARE ECLIPSE OF THE MIDNIGHT SUN: A solar eclipse in the middle of the night? Yes, it can happen. Sky watchers in the Arctic will witness such an event on June 1st when the Moon partially eclipses the midnight sun. Get the full story from Science@NASA.
ENDEAVOUR HAS LANDED: Space shuttle Endeavour landed at the Kennedy Space Center this morning, June 1st, at 2:35 a.m. EDT, concluding a two week mission to the ISS. During the flight, crewmembers delivered a dark matter physics experiment to the space station that could, in time, transform our understanding of the cosmos--a nice punctuation mark for Endeavour's 19 years of service. Next up for the shuttle: retirement at the California Science Center in Los Angeles.
"This really is the end of an era," says John E Cordiale who photographed a spectacular "farewell flyby" of Endeavour (alonside the ISS) over his hometown of Queensbury, New York: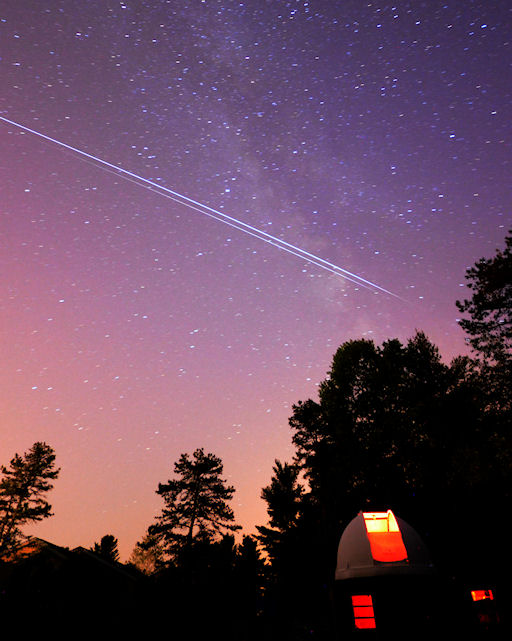 "I will always remember this event fondly and feel lucky to have witnessed it," he says.
Browse the links for more farewell flybys: from Mark Strollo of Waterford, CT; from Tamas Ladanyi of Tihany (Hungary); from Louis Suarato of Esperance, NY; from Trevor Allen of Halifax, Nova Scotia; from Michael Boschat of Halifax, Nova Scotia; from Marsha Adams of Sedona, Arizona; from Bob Thompson of Prescott, Arizona; from Mark A. Brown of Carlisle, PA; from Paul M. Hadfield of Decatur, IL; from Achim Schaller of Freiburg, Southern Rhine Valley, Germany;
SOUTH POLE AURORAS: Earth is exiting a solar wind stream that sparked colorful auroras on May 28th-30th. At the height of the display, Southern Lights over the geographic south pole became so bright, "they were tricky to photograph without overexposure," reports J. Dana Hrubes, science leader at the Amundsen-Scott South Pole Station. "The ice surface as well as the 10m primary mirror of the South Pole Telescope were well illuminated." (continued below)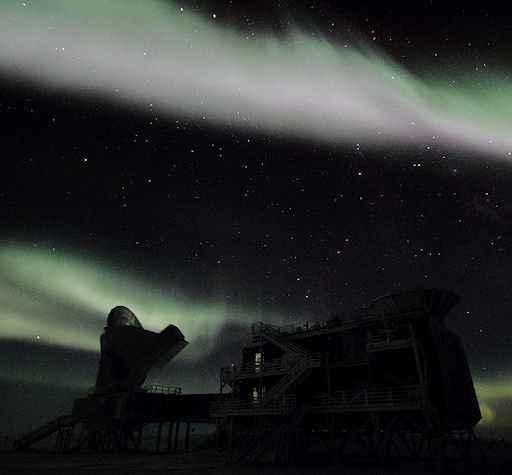 "When I went outside to take these pictures on May 30th, the air temperature was about -94 F (-70 C)," says Hrubes. "Just days earlier, the temperature had dropped all the way to -103.4 F (-75.2 C), so the aurora photo-shoot was relatively warm."
Photographers at the South Pole, bundle up! Another solar wind stream is due to arrive on or about June 4th. Its impact could trigger renewed geomagnetic activity, and you might want to go outside. Aurora alerts: text, voice.
more images: from Brian Larmay of Pembine, Wisconsin; from Minoru Yoneto of Queenstown, New Zealand; from Neva Andersen of Saint Cloud, Minnesota; from Dave Curtis of Dunedin, New Zealand; from Ian Stewart of Hobart, Tasmania, Australia; from Tom Luttrell of Mount Nelson Signal Station, Hobart, Tasmania; from Beatrice van Eden of Antarctica;
---
April 2011 Aurora Gallery
[previous Aprils: 2010, 2009, 2008, 2007, 2006, 2005, 2004, 2003, 2002]