| | | |
| --- | --- | --- |
| NEW AND IMPROVED: Turn your iPhone or iPod Touch into a field-tested global satellite tracker. The Satellite Flybys app now works in all countries. | | |
AURORA WATCH: A solar wind stream is buffeting Earth's magnetic field, and NOAA forecasters estimate a 25% chance of geomagnetic activity during the next 24 hours. High latitude sky watchers should be alert for auroras.
MEMORIAL DAY FIREWORKS: On May 31st, around 2100 UT, a magnetic filament erupted on the sun. NASA's Solar Dynamics Observatory (SDO) recorded the action with 10-times HDTV resolution. Click on the image to play the movie--and be alert for "the twist!"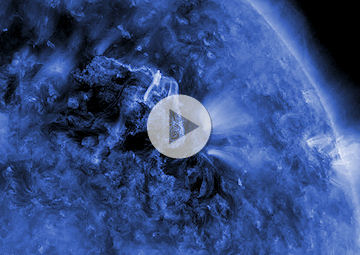 Movie formats: 1 MB mpeg, 1.2 MB iPad, 0.5 MB iPhone
Magnetic filaments on the sun are a bit like rubber bands. They store energy when they are twisted. Take a rubber band from your desk and try it--twist, twist, twist. Eventually it will reach its fill and untwist explosively. That's more or less what happened on the sun. Play the movie again and note the untwisting motions near the center of the tempest. SDO's clear vision is revealing how these explosions work in unprecedented detail. Stay tuned for more.
X-37B FLARES: Multiple observers are reporting "X-37B flares." When the USAF space plane flies overhead, it suddenly increases in brightness five-fold or more. Amateur astronomer Bryan Murahashi photographed the phenomenon on May 30th* when the X-37B cut through the Big Dipper over San Jose, California: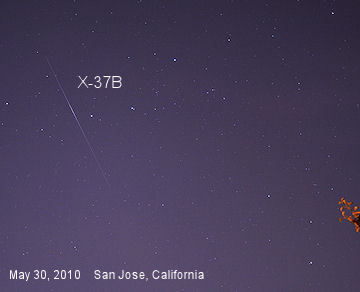 Photo details: Nikon D300, 26s, f/2.8 at 24.0mm, ISO320
"The space plane brightened at least two magnitudes," says Murahashi. "It was a very neat thing to see."
Another observer, Bill Chellis, describes his flare experience on May 29th: "At first I had a little trouble finding the space plane, that is until it flared up nice and bright for about 3 seconds. It reached a peak magnitude of -2 or so. Having seen the ISS flare before, I would say that this flare was different in terms of color: blue-white, not orange-yellow."
The flares are probably caused by sunlight glinting from the X-37B's solar panels. It's impossible to say for sure, however, because the space plane's actions, configuration, and overall mission are secrets.
Ready to see a space plane flare? Turn your cell phone into an X-37B tracker--or check our Simple Satellite Tracker for flyby times.
*Errata: An earlier version of this item stated that the flyby happened on March 30th. The correct date is May 30th.
---
May 2010 Aurora Gallery
[previous Mays: 2008, 2005, 2004, 2003, 2002] [aurora alerts]