| | | |
| --- | --- | --- |
| Metallic photos of the sun by renowned photographer Greg Piepol bring together the best of art and science. Buy one or a whole set. They make a stellar gift. | | |
SHUTTLE LAUNCH DELAYED AGAIN: Space shuttle Endeavour will not launch on Monday, May 2nd. Ongoing work to repair the problem with heaters on a fuel line for the shuttle's auxiliary power unit will not be finished in time. NASA plans to attempt a new launch "no earlier than May 8th." Stay tuned for updates.
WEEKEND AURORAS: It has been a good weekend for northern sky watchers. A solar wind stream hit Earth's magnetic field on Saturday, sparking two days of auroras around the Arctic Circle. In Alberta, Canada, this morning, the month of May began with a psychedelic sky: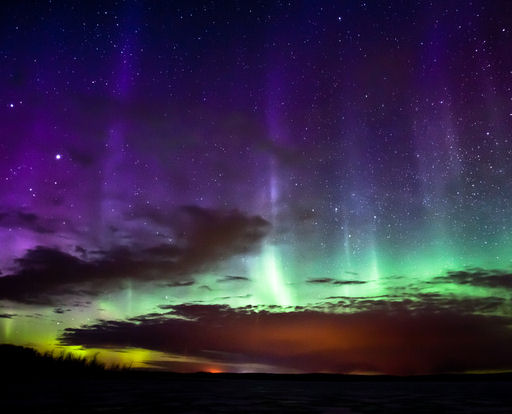 "I have never seen such vibrant purples before," says photographer Zoltan Kenwell of White Court, Alberta. "Cloud cover made me miss a lot of the display, but what I did get --WOW! This was a full weekend!"
High-latitude sky watchers should remain alert for auroras. The solar wind continues to blow at high speed, and NOAA forecasters estimate a 50% chance of more geomagnetic activity during the next 24 hours. Aurora alerts: phone, text.
more images: from Shawn Malone of Marquette, Michigan; from Janusz Jakub Kuc of Co. Donegal, Ireland; from Olivier Du Tre of Cochrane, Alberta, Canada; from Zoltan Kenwell of Edmonton, Alberta, Canada; from Steve Milner of Ft St John, British Columbia, Canada; from Paul Klauninger of Ottawa, Ontario, Canada; from Yasser Maghsoudi of Chochrane, Alberta, Canada;
April 2011 Aurora Gallery
[previous Aprils: 2010, 2009, 2008, 2007, 2006, 2005, 2004, 2003, 2002]
QUIET BEAUTY: New sunspot 1203 is not producing many flares, but it is photogenic anyway. Sebastien Kersten sends this snapshot from his backyard observatory in De Haan, Belgium: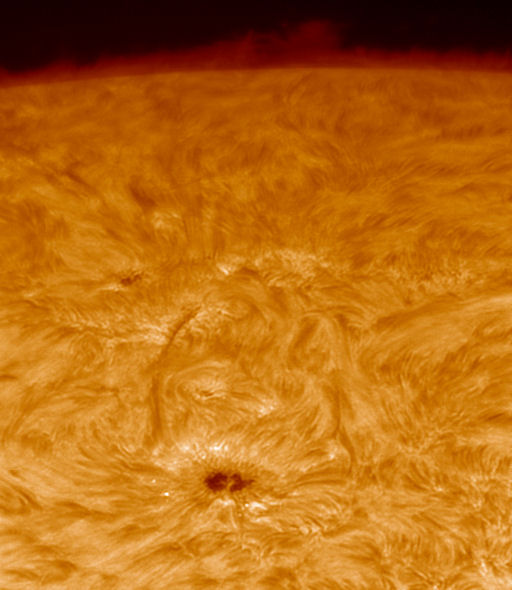 "Incredible!" says Kersten, who took the picture using an H-alpha filter tuned to the red glow of solar hydrogen. "The sunspot had a strong 3D appearance when viewed through the eyepiece of my Coronado SM140 solar telescope."
The sunspot is dragging a pair of magnetic filaments behind it, each measuring about 50,000 km from core to tail. If the filaments criss-cross or become unstable and collapse, there might be a flare after all. Monitoring is encouraged.
more images: from Cai-Uso Wohler of Bispingen, Germany; from Matt Wastell of Brisbane, Australia; from Rogerio Marcon of Campinas SP Brasil