SPACE WEATHER ON MERCURY: Is it any surprise? The planet closest to the sun is experiencing space weather events at a rate 10 times greater than anything we ever see on Earth. This is just one of several new findings about Mercury announced in today's issue of Science magazine. Get the full story from Science@NASA.
DEPARTING SUNSPOT: Sunspot 1016 is rotating over the sun's western horizon today. It's going--"but not quietly," reports Pete Lawrence of Selsey UK. "The old-cycle active region is putting on quite a show." Here is the view through his SolarScope SF-70: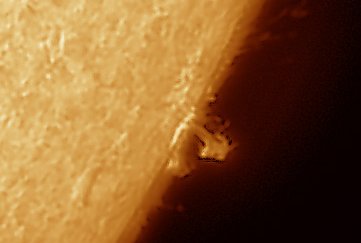 "It is a seething fury of plasma," he says. "My images captured a lovely, almost flower-like prominence ejected from the region."
Readers, if you have a solar telescope, train it on the sun's western limb. Sunspot 1016 will be rounding the bend for the next 24 hours or so. Parting shots are welcomed.
more images: from Didier Favre of Brétigny sur Orge, France; from Cai-Uso Wohler of Bispingen, Germany; from Matthias Juergens of Gnevsdorf, Germany;
AS THE WORLD TURNS: Our planet is spinning, and here is the proof: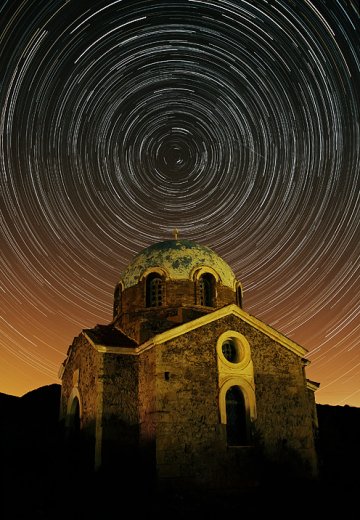 Chris Kotsiopoulos took the picture on April 26th. He placed his camera (a Canon Rebel XTi) motionless on a tripod in front of St. John's church in Sounio, Greece, and opened the shutter for almost three hours. The slow spinning of the planet beneath his feet caused the stars above to trail in graceful arcs around the north star, Polaris.
"Note the meteor to the right of Polaris," says Kotsiopoulos. During the long exposure, a speck of space dust collided with Earth's atmosphere and disintegrated in a straight line across the arcs. The meteoroid was moving so quickly (~100,000 mph), it didn't have time to curve before it faded away. Turns out that stars trail, but shooting stars do not...
---
April 2009 Aurora Gallery
[previous Aprils: 2008, 2007, 2006, 2005, 2004, 2003, 2002]
---