| | | |
| --- | --- | --- |
| SATELLITE FLYBYS APP: Turn your iPhone or iPod into a field-tested satellite tracker! Spaceweather.com presents the Satellite Flybys app. | | |
TERRESTRIAL GAMMA-RAY FLASHES: There's a mystery in the skies of Earth. Something is producing bright flashes of gamma radiation in the upper atmosphere of our own planet. A spacecraft called 'Firefly' is going to investigate: full story.
WEEKEND SUNSPOT: Over the weekend, sunspot 1043 emerged in the sun's northern hemisphere--and it continues to grow today. "It is taking on a nice shape in my Coronado PST (personal solar telescope)," reports amateur astronomer Jo Dahlmans. He sends this snapshot from his backyard observatory in Ulestraten, The Netherlands: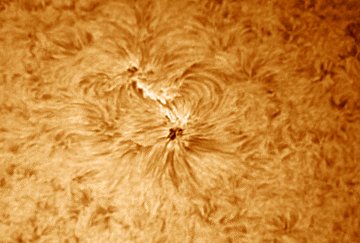 In Ocean Beach, California, astrophotographer Micheal Buxton recorded a half-hour movie of the new active region (1632-1701 UT on Jan. 31st). "I watched in amazement as plasma recoiled between the sunspot's dark magnetic cores," says Buxton. "Until the clouds rolled in, it was quite a show!"
more images: from Andreas Murner of Rosenheim, Bavaria, Germany; from Michael Borman of Evansville, Indiana; from Wouter Verhesen of Sittard, The Netherlands;
INTENSE MOONLIGHT: Friday's night's full Moon was the biggest and brightest of 2010. "It certainly made an impression on me," says Martin McKenna of Maghera, Northern Ireland, "and not only because of its beauty in the sky. I decided to aim my camera at the ground for a different angle on the event." He snapped this picture using a Fujifilm S5600: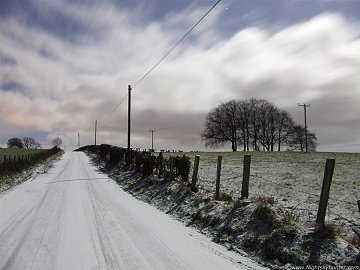 "When the Moon emerged from behind a passing cloud, the land was transformed into an intense white spectacle, which got an instant 'wow' from me," he continued. "It looked like a giant spotlight was beaming down on Earth with an indescribable brilliance. These two images were taken between 02.00 and 02.30 UT and show with considerable accuracy how the landscape appeared to the naked eye."
In Tucson, Arizona, where Pete Strasser regularly monitors the luminance of the Moon, Strasser says "this was the brightest full Moon I have measured, registering 0.040 foot-candles on my meter. All colors were readily visible to the naked eye."
The Moon was so bright because it was at perigee, the part of the Moon's orbit closest to Earth: diagram. This favorable geometry made the Moon appear 14% wider and 30% brighter than lesser moons of 2010. It was quite a perigee Moon.
more moonshots: from Gawie Hugo of Bloemfontein, South Africa; from Anthony Ayiomamitis of Athens, Greece; from Dennis O'Hara of Silver Bay, Minnesota; from P-M Hedén of Vallentuna, Sweden; from Mohamad Soltanolkottabi of Esfahan, Iran; from Marek Nikodem of Szubin. Poland; from John Stetson of Sebago Lake, Maine; from Larry Landolfi of Hilton Park, Newington, New Hampshire; from Frank Hood of 'Anjou sur le Lac', Montreal, Canada; from Henry F. Mendt of Maracaibo, Venezuela; from Jimmie Weeks of Anchorage, Alaska; from Azhy Chato Hasan of Erbil, Kurdistan, Iraq; from Mahdi Zamani of Cheshmeh-Ali, Damghan, Semnan, Iran; from Daisuke Tomiyasu of Egenoyama, Ashiya, Hyogo, Japan;
---
UPDATED: January Northern Lights Gallery
[previous Januarys: 2009, 2008, 2007, 2005, 2004, 2001]