| | | |
| --- | --- | --- |
| Hang the Transit of Venus on your wall! Hubble-quality images from NASA's Solar Dynamics Observatory are now available as metallic posters in the Space Weather Store. | | |
QUIET BEGINNING: 2013 has begun. This is supposed to be the year of Solar Max, yet New Years Day is quiet. There hasn't been a significant solar flare in more than a month, and none of the sunspots on the Earthside of the sun appear poised to erupt. NOAA forecasters estimate a slight 10% chance of M-class solar flares during the next 24 hours. Solar flare alerts: text, voice.
FIRST AURORAS OF 2013: A stream of solar wind hit Earth's magnetic field on Dec. 31st, setting the stage for the first auroras of 2013. Elizabeth Gyurgyak sends this picture of the midnight display from Abisko National Park in Sweden: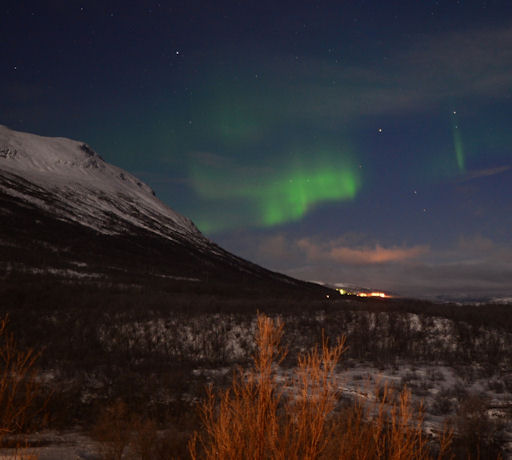 "What a fantastic way to see in the New Year!!" says Gyurgyak. "We were standing on the frozen Lake Tornetrask. Gentle auroras came and went, but the party continued on! A select band of hardy souls braved the minus 21 celsius windchill and were serenaded by the booming and cracking sounds of the lake ice. This was an auspicious start to 2013. Happy New Year to all!"
3D JUPITER: This just in: Jupiter is a sphere. You can prove it to yourself by staring at the stereo pair below and crossing your eyes. The third image that appears in the middle shows the shape of the giant planet in three dimensions.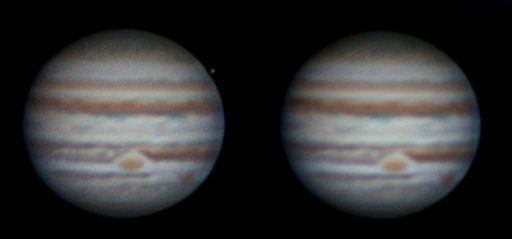 French photographer Sylvain Weiller took the pictures using a 12-inch telescope on December 30th. Jupiter's rapid rotation provided the two points of view necessary for stereo imaging. "The two pictures are separated by about 10 minutes," explains Weiller. "I processed them using SPM (Stereophoto Maker) to make the 3D-couple." More details are given here.
"The moon in the image is Europa," he adds. "I caught it just a couple of minutes from being eclipsed behind the planet." (PS: Europa looks spherical, too.)
Realtime Jupiter Photo Gallery
DOUBLE SPACE STATION FLYBY: In a short span of 13 seconds on Dec. 29th, amateur astronomer Val Germann watched two space stations fly over his backyard in Columbia, Missouri. The ISS and China's Tiangong-1 space station were almost simultaneously visible to the naked eye: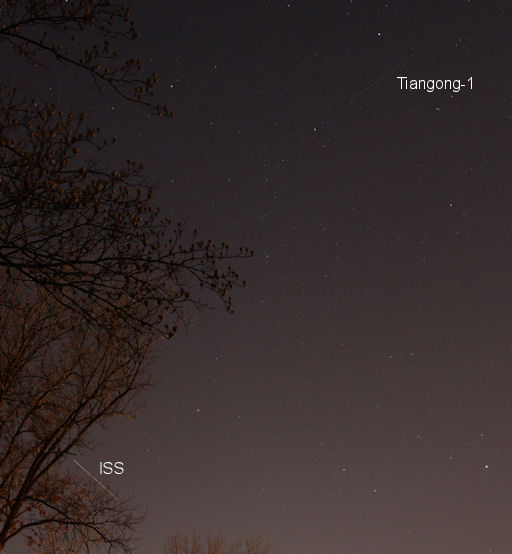 "I have been waiting for a chance at this combination for some time, finally getting an image this evening," says Germann.
Most readers are familiar with the 450-ton ISS. Fewer, perhaps, know about the 8.5-ton Tiangong-1 (Heavenly Palace-1), China's first space station. It was launched in Sept. 2011 and briefly boarded by taikonauts (Chinese astronauts) in June 2012. The crew included the first Chinese female astronaut, fighter pilot Liu Yang, 33. Another group of taikonauts is scheduled to visit in June 2013 as the Chinese space program continues to practice rendevous and docking procedures. According to some reports, the Tiangong-1 will be de-orbited in late 2013 to make way for more advanced experimental stations, Tiangong-2 and Tiangong-3, in 2014 and 2015. Ultimately, China hopes to place an Mir-class station in orbit by 2020.
See the Tiangong-1 before it goes! Spaceweather's Simple Flybys app turns your smartphone into a field-tested space station tracker. It works for both the ISS and the Tiangong-1.
Realtime Space Weather Photo Gallery
---
Realtime Noctilucent Cloud Photo Gallery
[previous years: 2003, 2004, 2005, 2006, 2007, 2008, 2009, 2011]