SEE THE SPACE STATION: Space shuttle Endeavour docked to the International Space Station on Sunday, Nov. 16th, delivering a new crew member and 14,000+ pounds of equipment and supplies to the outpost. Joined together, the two spacecraft are among the brightest objects in the night sky, rivaling Venus in luminosity. Check the Simple Satellite Tracker for flyby times.
photos: from Becky Ramotowski of Tijeras, New Mexico; from Ben Cooper at the Wright Flyer replica in Daytona, Florida; from Adrian New of San Antonio, Texas;
MYSTERY MOON OF VENUS: The second planet from the sun has no moon, yet last night, Nov. 17th, Venus did have a companion. John Stetson photographed the duo shining through the cobalt-blue twilight skies of Portland, Maine: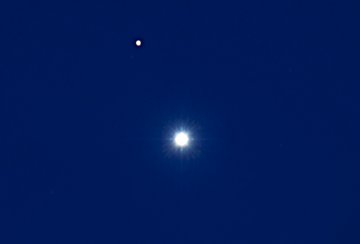 There's no real moon mystery here. Venus' temporary sidekick was 3rd-magnitude star λ Sagittarii located 77 light years from Earth. Venus passes by λ Sagittarii from time to time. In 1984 Venus completely eclipsed the star; last night the separation was a relatively spacious 0.1o.
This conjunction is finished but Venus is heading for an even more spectacular pairing with Jupiter at the end of the month. Go outside tonight and look into the glow of sunset. You can actually see the two planets rushing together, their separation shrinking noticeably from night to night. The climax occurs on Dec. 1st when the crescent Moon leaps up from the horizon to join them for a three-way conjunction of unforgettable beauty. Keep an eye on the sunset! Sky maps: Nov 18, 19, 20, 21, 22, 23, 24, 25, 26, 27, 28, 29, 30, Dec 1.
more images: from Jonathan Sabin of Ellenton, Florida; from Doug Zubenel of De Soto, Kansas; from Daniel Strehle of Augsburg, Bavaria, Germany; from Tamas Ladanyi of Veszpremfajsz, Hungary; from Becky Ramotowski of Tijeras, New Mexico; from Pavel Klimes of Hostivice, Czech Republic; from Thomas Filbey of Papillion, Nebraska;
SOMETHING FISHY IN THE SKY: When you run into a thousand penguins all staring at the sky, two words come to mind: flying fish. But on Oct. 28th, photographer Steve Shuey caught the flightless birds of South Georgia Island staring up at something else: atmospheric optics. "The sun had just risen," he says, "when this fogbow appeared in the mist."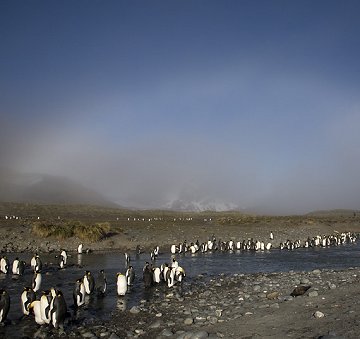 Photo details: Canon 5D, ISO 160, 1/500th sec, f/11
"A fogbow is like a rainbow except that the fog droplets making them are a hundred times smaller than raindrops," explains atmospheric optics expert Les Cowley. "Wave interference inside the tiny droplets smears the bow into a broad and almost-colorless band. You do not need to be in penguin-land to see a fogbow. Look for them whenever a low sun starts to shine through morning mist."
more images: from Mila Zinkova on South Georgia Island; from Wade B Clark Jr of Burlington, Washington; from Bill Smith of Cherry Creek, New York; from Frank Ryan Jr of The Burren, Co. Clare, Ireland
---
Nov. 2008 Aurora Gallery
[Previous Novembers: 2007, 2006, 2004, 2003, 2001, 2000]