GIANT BREACH IN EARTH'S MAGNETIC FIELD: NASA's five THEMIS spacecraft have discovered a breach in Earth's magnetic field ten times larger than anything previously thought to exist. The size of the opening and the strange way it forms could overturn long-held ideas of space physics: full story.
SOLAR ACTIVITY: Hours ago, something on the far side of the sun exploded and hurled a massive cloud of debris (a CME) over the eastern limb. Using a coronagraph to block the sun's glare, the Solar and Heliospheric Observatory (SOHO) photographed the cloud expanding into space:
NASA's Stereo-B spacecraft is stationed over the sun's eastern limb, but it was not taking pictures at the probable time of the eruption, so details of the blast are unknown. The CME could herald an active region (e.g., a sunspot or perhaps an unstable magnetic filament) turning to face Earth in the days ahead. Stay tuned for updates.
GREEN SOLSTICE: On Dec. 12th, a solar wind stream delivered a glancing blow to Earth's magnetic field and turned the skies above Scandinavia aurora-green: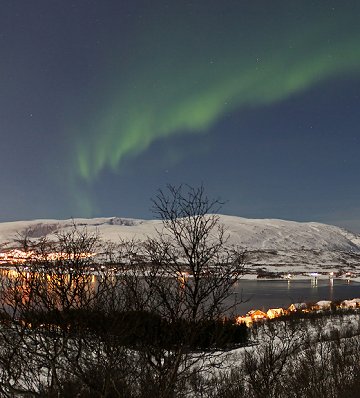 Photo details: Canon EOS 1000D, 18mm, F3.5, 800 ISO, 6 sec
"Strong moonlight added a snowy highlight to the scene," says photographer Jostein Johansen of Tromsø, Norway. The solar wind stream that caused the display came from a far-northern coronal hole. Because of the hole's high latitude, the emerging stream almost missed Earth and only just brushed against our planet's magnetic field. Nevertheless, "it was a beautiful display."
On Dec. 21st, another solar wind stream will arrive, only this time it will hit Earth directly. The stream is spewing from a coronal hole that straddles the sun's equator, which puts our planet squarely in the "cross hairs." The longest night of the year could be a green one; Arctic sky watchers should be alert for auroras.
Dec. 2008 Aurora Gallery
[Previous Decembers: 2007, 2006, 2005, 2001, 2000]