SPACE STATION FLYBYS: Sky watchers in Europe and North America are in for a treat. For the next few days, the International Space Station will be orbiting over the two continents, appearing brightly in the morning and evening sky. Check the Simple Satellite Tracker to find out when to look.
PERSIAN CLOUDS: Noctilucent clouds (NLCs) are supposed to be a high-latitude phenomenon, most often seen in Canada, Russia and northern Europe. On July 19th the electric-blue clouds crept south, all the way to Iran: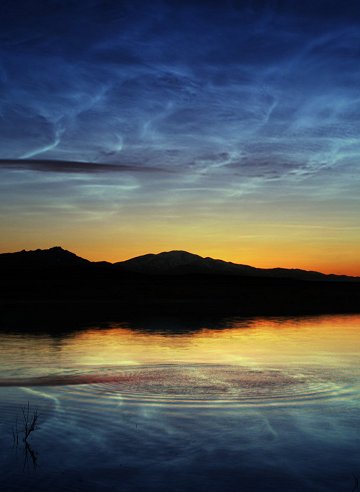 "I took this picture from Mt. Sabalan, a 15,784 ft extinct volcano in northwestern Iran," says Siamak Sabet. "It is the third highest peak in our extremely mountainous country."
When noctilucent clouds first appeared in the late 19th century, they were confined to latitudes above 50o N. Mt Salaban is located at 38o N, far below the old threshold. Just last week, NLCs were sighted in Turkey at 40o N and in recent years they have appeared at least as far south in the United States as Colorado and Utah, also around 40o N.
Why are NLCs spreading south? That is an unsolved mystery of these puzzling clouds. Some researchers believe it is a telltale sign of climate change, but this remains controversial. One thing is certain: Sky watchers at all latitudes should be alert for for NLCs. Observing tips may be found in the photo gallery:
2008 Noctilucent Cloud Gallery
[Strange Clouds] [Sky Cameras]
SHREDDED STORM: On July 1st, a Mars-sized storm on Jupiter called the "Little Red Spot" (LRS) ran into two of its siblings: the Great Red Spot and Oval BA. Caught between the two larger storms, the Little Red Spot was torn apart. These before and after shots come from the Hubble Space Telescope: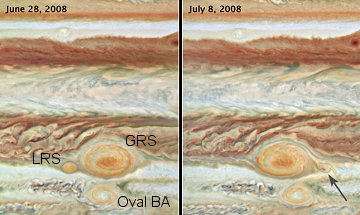 The gray arrow in the July 8th image points out the remains of the LRS. One can only imagine the turmoil and shredding action that took place when the LRS tried to squeeze itself between the other two storms, because Hubble wasn't looking when it happened; the great telescope was scheduled to observe something else that day.
With greater flexibility at their home observatories, a number of skilled amateur astronomers did record the collision using backyard telescopes. Their images show the LRS being torn apart and then, possibly, reforming itself for a second collision with the Great Red Spot later this month. Click here for more information.