FLYING SPACE JUNK: The Early Ammonia Servicer (EAS), a refrigerator-sized piece of space junk thrown overboard from the International Space Station last year, is expected to re-enter Earth's atmosphere in late 2008 or early 2009. It should make a nice fireball. Meanwhile, you can see the EAS intact as it zips across the night sky almost as bright as the stars of the Big Dipper. Check the Simple Satellite Tracker for flyby times.
GET READY FOR THE SOLAR ECLIPSE: Consider it an overture. This morning in Iran, Mohamad Soltanolkottabi photographed the Moon tantilizingly close to the rising sun. "I went to Naghsh-e Jahan Square and took this picture in front of the Sheykh Lutfullah Mosque," he says.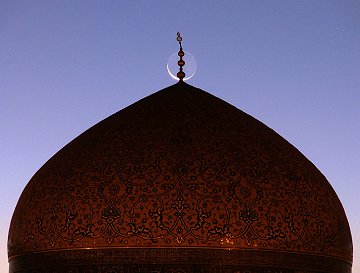 Less than 24 hours from now, the sun and Moon will meet, converging to produce a solar eclipse. The narrow path of totality stretches from arctic Canada, across Greenland and Siberia, to millions of waiting eyes in populous China. NASA TV will broadcast the event beginning Friday, August 1st, at 6 am EDT. Don't miss it!
OVER THE HORIZON: NASA's STEREO-B spacecraft has beamed back a movie of a spectacular eruption on the sun's eastern limb. Click on the image to launch a 6 MB mpeg: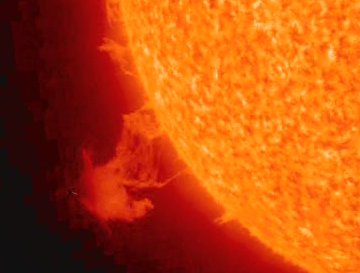 The movie spans a two day period, July 12-14, and shows a blob of gas five times the size of Earth being hurled away from the sun. Earth was not in the "line of fire" so no geomagnetic storms or auroras resulted from the blast.
Astronomers on Earth witnessed only the upper regions of the explosion. From our point of view, the action took place over the sun's horizon. STEREO-B, however, has a different point of view. STEREO-B shares Earth's orbit around the sun (approximately), but lags behind Earth by about 30 degrees. This allows the spacecraft to see "around the bend," revealing solar activity hidden from terrestrial eyes.
Seeing the hidden side of the sun is just one of many benefits of the ongoing STEREO mission; learn more from nasa.gov.
---
2008 Noctilucent Cloud Gallery
[Strange Clouds] [Sky Cameras]