| | | |
| --- | --- | --- |
| Listen to radar echoes from satellites and meteors, live on listener-supported Space Weather Radio. | | |
MARS-DIRECTED CME: A minor CME that left the sun during the late hours of April 28th is heading for Mars. En route, it will sweep past the Mars Science Lab spacecraft, which is carrying Curiosity to the Red Planet. According to a forecast track prepared by analysts at the GSFC, the cloud will reach the rover on May 4th. Fortunately, Curiosity is equipped to sense and study solar storms: video.
THWARTED ESCAPE: Solar activity is low, with only a smattering of minor C-class flares coming from a few 'active regions' scattered across the solar disk. An eruption from sunspot AR1465 on April 29th didn't even get off the ground. NASA's Solar Dynamics Observatory recorded the thwarted escape: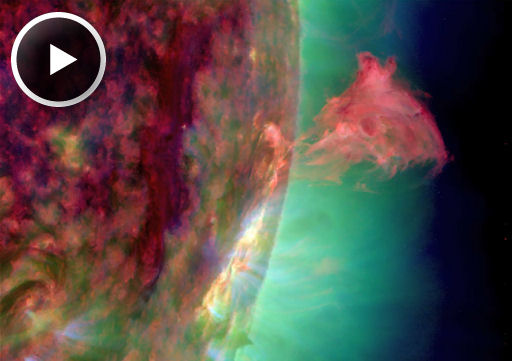 It was AR1465 vs. gravity, and gravity won.
Solar activity should remain low for the next 24 to 48 hours, with no more than a 1% chance of X-class solar flares. As the movie above shows, however, even a weak eruption on the sun is worth watching. Stay tuned for more. Solar flare alerts: text, voice.
more images: from Alan Friedman of Buffalo, NY; from John Stetson of Falmouth, Maine
VENUS IN BROAD DAYLIGHT: Venus is at its brightest. Today, the second planet from the sun is shining 190 times brighter than a 1st magnitude star, bright enough to see in broad daylight if your eye lands right on it. On April 28th in the Czech Republic, something drew Martin Gembec's eye directly to Venus. His guide was the International Space Station: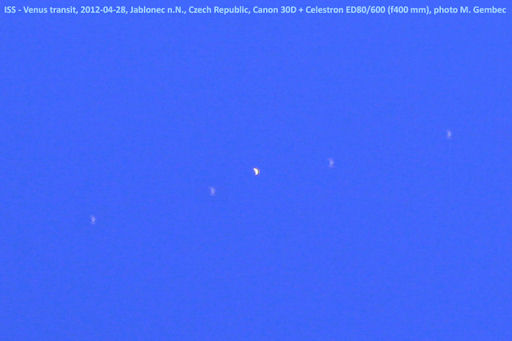 "We had a nice sunny afternoon picnic here in Jablonec," says Gembec. "In the clear blue sky overhead, the ISS went right through Venus. It was a special moment."
No ISS? No problem. Even without a spaceship, you can find Venus by looking 40° (about four fist-widths) east of the sun. Observing tip: Stand in the shadow of a tall building. You can also wait until the sun goes down. Venus is terrifically brilliant in the western twilight.
more images: from Aaron Top of Shallow Lake, Ontario, Canada; from Philip Strohbehn of Webster City, Iowa
FIREBALL PHOTOS WANTED: Meteor expert Peter Jenniskens of NASA's Ames Research Center could use some help from the general public--in particular, photographers and business owners with security cameras in central California. He needs photos of the mini-van sized asteroid that exploded over the region on Sunday morning, April 22nd, at 7:51 am PDT. "Our goal is to determine the orbit of the object and to understand how this small asteroid fell apart when it entered the earth's atmosphere," he explains. [Got photos? Submit them here.]
Meteorite hunters, Jenniskens included, are starting to find pieces of the asteroid on the the ground. These samples were lying in the parking lot of Henningsen-Lotus Park, apparently crushed by a passing car: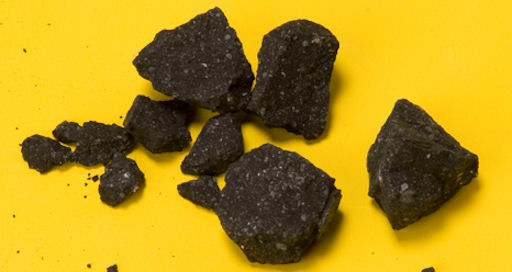 The meteorites landed not far from Sutter's Mill in El Dorado County, CA, the same place gold was discovered in the 19th century, triggering the California Gold Rush. Jenniskens likens the thrill of finding these space rocks to finding gold: " I think John A. Sutter must have felt the same way when he found the first gold nugget back in January of 1848."
"The meteorites appear to be CM chondrites," he continues. This would make the sample very primitive, possibly contiaining minerals and compounds preserved from a time when the solar system was very young. "I can not say more as the samples have not yet been analyzed. My main concern now is to recover perishable data of the fireball, such as video security camera footage."
More footage will help researchers answer questions like these: "Was this a rubble pile or a monolitihic block? Was the orbit very evolved, or could its semi-major axis perhaps still point us to the source region of CM chondrites in the asteroid belt?" Jeniskens wonders. "This is a rare opportunity to learn about the properties of a particular class of near-Earth objects."