| | | |
| --- | --- | --- |
| SPACESHIP SIGHTINGS: Would you like a call when the space station is about to fly over your backyard? Sign up for Spaceweather PHONE. | | |
EXTRATERRESTRIAL AURORAS: Lately, NASA's Cassini spacecraft has been monitoring some lovely Northern Lights--on Saturn! Saturn's auroras tower 750 miles above the planet's atmosphere, forming a ring of shimmering light wider than Earth itself. Mission scientist Andy Ingersoll discusses the findings in a 40 MB video from NASA.
BIG SPACESHIP: It's wider than a football field, has more than 13,000 sq. ft. of living space, and weighs more than 760,000 Earth-pounds. On top of everything else, it looks great through a telescope. Behold the ISS: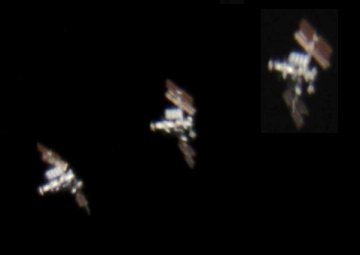 Pete Lardizabal took these pictures on Nov. 28th when the space station flew over his backyard in St Johns, Florida. "I used a 130mm (5 inch) refracting telescope and a Canon 30D digital camera," he says.
No telescope is required, however, to enjoy the ISS. Human eyes do fine. The enormous spaceship reflects enough sunlight to outshine Jupiter or Venus, and it is easy to see in the night sky even from brightly-lit cities. Check the Simple Satellite Tracker for flybys of your home town.
more images: from Mustafa Erol of Antalya/Turkey; from Keith Geary of Shercock, Co.Cavan, Ireland;
FLORIDA SUN PILLAR: Last night, when the sun set over the panhandle of Florida, a luminous red column lept up from the western horizon. "It was the nicest sun pillar I've ever seen," days Dr. Wayne Wooten, who sends this picture from the campus of Pensacola Jr. College: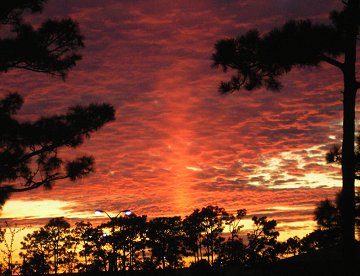 Sun pillars are caused by six-sided plate-shaped ice crystals fluttering down from cold clouds like leaves falling from trees. Air resistance causes the crystals' broad surfaces to line up in the horizontal direction. Sunlight reflecting from properly aligned crystals creates the pillar effect.
Ice crystals in Florida? The Sunshine State is supposed to be warm. Even in Florida, however, the air 5 to 10 km high is freezing cold, and that's where these ice crystals are located. People everywhere should be alert for sun pillars at sunrise and sunset. [more images]
---
November Northern Lights Gallery
[previous Novembers: 2008, 2007, 2006, 2004, 2003, 2002, 2001]
---
2009 Leonid Meteor Gallery
[previous Leonids: 1998, 2001, 2002, 2006]
---