| | | |
| --- | --- | --- |
| Listen to radar echoes from satellites and meteors, live on listener-supported Space Weather Radio. | | |
QUIET SUN: With no sunspots actively flaring, solar activity is low. NOAA forecasters estimate a slim 1% chance of X-class solar flares today. Solar flare alerts: text, voice.
CORONAL HOLE: A hole in the sun's atmosphere--a "coronal hole"--has opened up and it is spewing solar wind into space. NASA's Solar Dynamics Observatory photographed the UV-dark gap during the early hours of May 29th: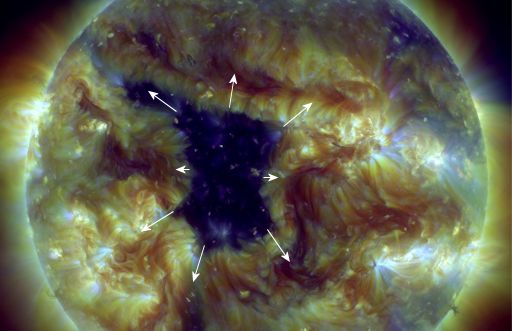 Coronal holes are places where the sun's magnetic field spreads apart and allows solar wind to escape. A windy stream of plasma flowing from this particular hole should reach Earth on June 2-3. The impact could spark geomagnetic storms and auroras around the poles. Aurora alerts: text, voice.
Realtime Space Weather Photo Gallery
BEAUTIFUL VENUS-JUPITER PAIRING: The sunset triangle of May 26th is breaking up, but the show is not over. As the triple conjunction disperses, Venus is passing Jupiter only 1 degree away. Rafael Schmall sends this picture of the encounter from Kaposfő, Hungary: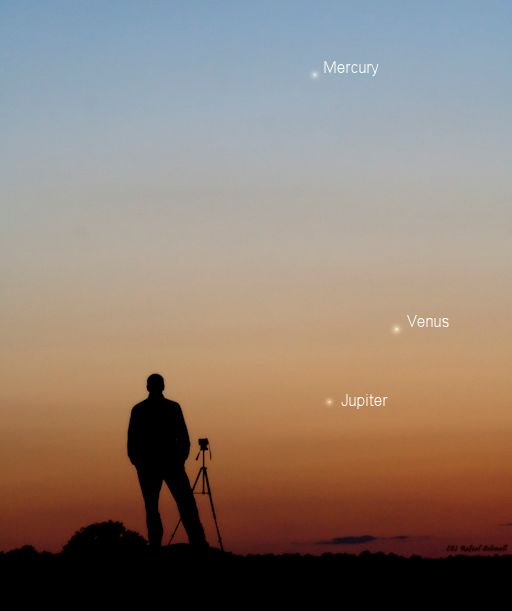 "I've been waiting for days to take this picture," says Schmall. "There was some fog out, but the steam on the lens turned out to be an advantage."
Watching the two brightest planets move so close together is a wonderful way to end the day. Look west at sunset! NASA: video, full story.
NOCTILUCENT CLOUD SEASON BEGINS: Over the weekend, sky watchers in northern Europe and Canada spotted electric-blue tendrils of light reaching out of the western sky at sunset. This signals the beginning of the 2013 season for noctilucent clouds (NLCs). Photographer Silvar Mehik sends this picture from the island of Saaremaa in Estonia: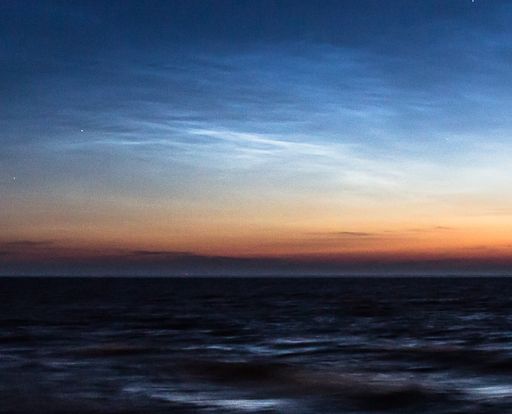 NLCs are Earth's highest clouds. In the upper atmosphere, 80+ km high, tiny ice crystals nucleate around meteoroids and other aerosols. When the crystals catch the rays of the setting sun, they glow electric blue. For reasons that are not fully understood, these highest and coldest of clouds form during the warmest months on the ground--late spring and summer.
Noctilucent clouds first appeared in the 19th century after the eruption of super-volcano Krakatoa. At the time, people thoght the clouds were caused by the eruption, but long after Krakatoa's ash settled, the clouds remained. In those days, NLCs were a polar phenomenon confined mainly ro far-northern places such as Scandinavia or Alaska. In recent years they have intensified and spread with sightings as far south as Utah and Colorado. Could this be a sign of climate change? A NASA spacecraft named "AIM" is in orbit to investigate.
NEW! Daily images from AIM are now published here on Spaceweather.com. To find them, look in the left column of the home page and scroll down below the coronal holes.
High latitude sky watchers should be alert for NLCs in the evenings ahead. Observing tips: Look west 30 to 60 minutes after sunset when the sun has dipped 6o to 16o below the horizon. If you see luminous blue-white tendrils spreading across the sky, you've probably spotted a noctilucent cloud.
Realtime Noctilucent Cloud Photo Gallery
[previous years: 2003, 2004, 2005, 2006, 2007, 2008, 2009, 2011]
---
---