SOLAR ACTIVITY: With no sunspots to break the monotony, the face of the sun has been blank and quiet for nearly a month. The edge of the sun is another matter. "The solar limb has been pretty busy lately," reports Alan Friedman of Buffalo, New York. "Today I photographed several beautiful prominences, and one of them looks like a tidal wave." Readers, if you have a solar telescope, point it at the limb; that's where the action is.
more images: from Pete Lawrence of Selsey, West Sussex, UK; from Franck Charlier of Marines, Val d'Oise - France; from Mike Strieber of Las Vegas, Nevada; from Robert Arnold of Isle of Skye, Scotland; from Monty Leventhal of Sydney Australia; from Sylvain Weiller of Saint Rémy lès Chevreuse, France; from Cai-Uso Wohler of Bispingen, Germany
VOLCANIC CLOUDS: Alaska's Mt. Redoubt volcano has erupted no fewer than 19 times since March 22nd, and several of the larger blasts have hurled plumes of ash and gas into the lower stratosphere. The GOME-2 (Global Ozone Monitoring Experiment) sensor onboard Europe's MetOp-A satellite has been tracking Redoubt's sulfur dioxide emissions, colored red in this March 26th SO2 column density map:


Click to view a full-sized animation with labels
The animation begins on March 25th and ends on the 28th. One cloud has just crossed North America en route to the Atlantic Ocean and Europe. A second cloud is leaving Alaska on the same east-west track. The last time an Alaskan volcano blew its top (Kasatochi in 2008), clouds like these caused fantastic sunsets around the northern hemisphere. More could be in the offing. If you live along the SO2 ground track, keep an eye on the twilight sky for signs of Redoubt--and stay tuned for updates.
CRESCENT MOON ALERT: Tonight, when the sun goes down, step outside and look west. You might see something like this: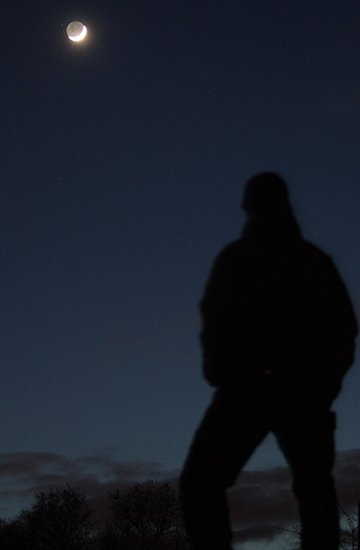 P-M Hedén took the picture just a few hours ago from Vallentuna, Sweden. "The lovely crescent Moon with Earthshine is always so beautiful! I recorded the scene using my Canon 450D."
more images: from Chris Kotsiopoulos of Athens, Greece; from Peter Paice of Belfast, Northern Ireland; from Mike O'Leary of El Cajon, California; from Elias Chasiotis of Markopoulo, Greece; from Kevin Jung of Grand Rapids, Michigan; from Erkki Rauhala of Uurainen, Finland; from Steven Janowiecki of Kitt Peak National Observatory; from Mania Rahban of Isfahan, Iran; from Luca Basili of Rome - Italy; from Amir H. Abolfath of Dizin, Tehran, Iran; from Ulrich C. Beinert in an airplane flying over Dresden, Germany; from Christopher Calubaquib of El Sobrante, California; from Louis Suarato of Albany, NY; from Michael Boschat of Halifax, Nova Scotia ;
---
March 2009 Aurora Gallery
[previous Marches: 2008, 2007, 2006, 2005, 2004, 2003, 2002]
---