| | | |
| --- | --- | --- |
| Listen to radar echoes from satellites and meteors, live on listener-supported Space Weather Radio. | | |
SATURN AT ITS BEST: Tonight, April 28th, Saturn will be at its closest to Earth for all of 2013. This is the best time to look at the ringed planet, which is glowing about twice as brightly as a 1st-magnitude star. Even small telescopes show Saturn's icy rings in crisp detail. [sky map] [NASA video]
SPACE WEATHER BALLOON POPS: Last week, we reported on a group of high school students in Bishop, CA, who are launching "space weather balloons" to the edge of space to study the effect of solar flares on Earth's ozone layer. This is what it looks like when a space weather balloon pops: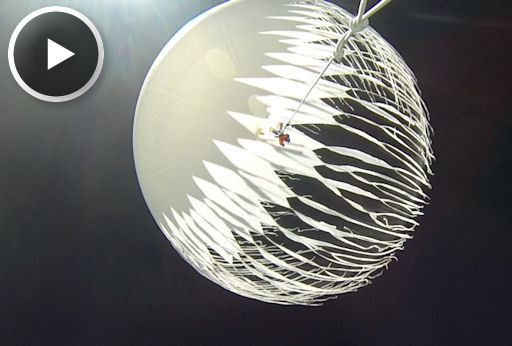 A camera atop the balloon's payload recorded the explosion at 60 frames per second, allowing the student researchers to create a slow-motion movie of the balloon tearing itself to ribbons. This was their 22nd flight to the stratosphere since 2010, so they've seen this happen many times: another movie highlights some of the best explosions so far.
The popping of the balloon is an intentional part of the mission profile. It happens at an altitude of approximately 120,000 feet above Earth's surface, well inside the ozone layer that the students wish to study. The payload then parachutes back to Earth, where students find it (often in exotic places such as Death Valley) using GPS trackers.
The name of the group is "Earth to Sky Calculus." Check their Facebook page for more information about the space weather balloon program and other activities.
EDGE-ON SUNSPOT: Big sunspot AR1726 rotated off the Earthside of the sun this weekend, surmounting the west limb of the solar disk as it headed for the sun's farside. Amateur astronomer Harald Paleske of Langendorf, Germany, took the opportunity to photograph a sunspot, edge-on: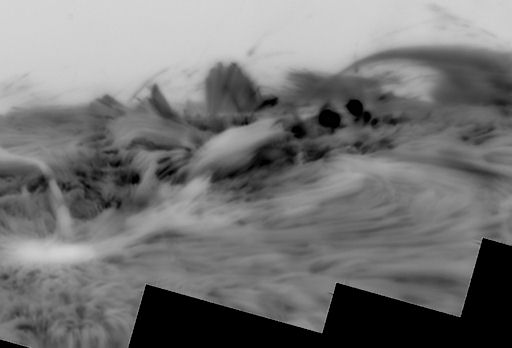 To create this extraordinary composite image, he assembled several exposures from his 225mm Unigraph solar telescope into a single panorama spanning more than 150,000 km. It shows a maelstrom of magnetic turbulence and heaving plasma--a true solar storm.
The last time we saw it clearly, AR1726 had a delta-class magnetic field that harbored energy for powerful X-class solar flares. The flare-threat has now shifted to the farside of the sun. Earth is safe, but Mercury and Mars are in the line of fire. Solar flare alerts: text, voice.
Realtime Space Weather Photo Gallery
RESUMING COMMUNICATIONS WITH MARS: For much of April, NASA's communications with Mars have been suspended as the Red Planet passed behind the sun. Transmissions are resuming again this weekend. SOHO coronagraphs show Mars emerging from solar conjunction: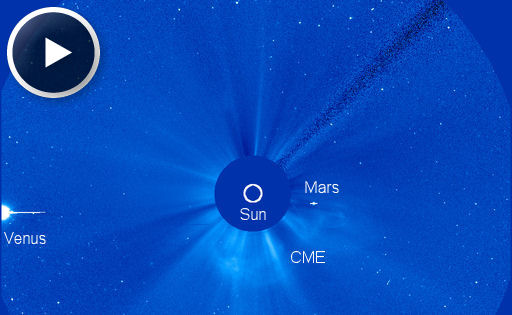 According to a NASA press release, command transmissions will resume, but with some restrictions for the next few days. By May 1st, the Mars orbiters will begin a full dump of data accumulated during the blackout period. Mars Reconnaisance Orbiter could have about 40 gigabits of data from its own science instruments and about 12 gigabits of data from Curiosity stored for sending to Earth.
---
---
---
Realtime Noctilucent Cloud Photo Gallery
[previous years: 2003, 2004, 2005, 2006, 2007, 2008, 2009, 2011]