| | | |
| --- | --- | --- |
| Metallic photos of the sun by renowned photographer Greg Piepol bring together the best of art and science. Buy one or a whole set. They make a stellar gift. | | |
MARS AT OPPOSITION: Mars is approaching opposition. On March 3-5, the Red Planet will be up all night long, opposite the sun and as close to Earth as it will get in 2012. Mars shines overhead at midnight 6 times brighter than a 1st magnitude star and looks great through a backyard telescope. [sky map] [photos: #0, #1, #2, #3, #4]
AURORA OUTBURST: Last night, for the second night in a row, sky watchers around the Arctic Circle witnessed an impressive display of auroras. "I've never seen anything close to this," says Aaro Kukkohovi, who photographed an eruption of light over Lumijoki, Finland:
"What a fantastic burst of energy--like something blew a hole into Earth's magnetic field just above us!"
HIs rhetorical flourish isn't far wrong. The cause of the display was the interplanetary magnetic field (IMF) tipping south and opening a 'crack' in Earth's magnetosphere. Solar wind poured in and fueled a G1-class geomagnetic storm. This was a high latitude event; the lights were brightest over Scandinavia, Iceland and Greenland.
more images: from Andrei Penescu of Kangerlussuaq, Greenland; from Heikki Mastokangas of Finland, Lestijärvi; from Andy Keen of Inari Municipality, Lapland, Finland; from Jan Pawlowski of Jyvaeskylae, Finland; from Tom Eklund of Valkeakoski, Finland; from B.Art Braafhart of Salla, Finnish-Lapland; from Ole C. Salomonsen of Muonio, Finland; from Aleksander Chernucho of Kola peninsula, Russia, Mt. Khibiny; from Riku Valtasaari of Tampere, Finland; from Joni Niemelä of Western Finland
February 2012 Aurora Gallery
[previous Februaries: 2011, 2010, 2009, 2008, 2007, 2006, 2004, 2003, 2002]
AFTER-IMAGES: The planetary conjunction of Feb. 26-27 is over now, but photographers are still processing and submitting their images. For sky watchers who missed the show, here is one last round of images, beginning with a video from an abandoned ski run in northern Nebraska: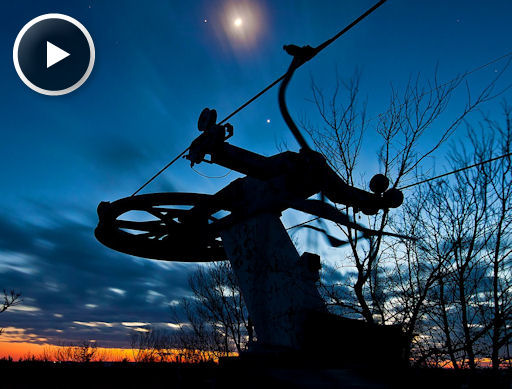 "The combination of planets with pale moon light, deep twilight colors, and the motion blur of clouds during a long exposure was enthralling," says photographer Chris Allington.
As the three-way meeting of Jupiter, Venus and the Moon breaks up, attention turns to the other side of the sky where Mars is approaching Earth for a close encounter on March 3-5. "Turn your back on the dazzling duo of Jupiter and Venus and you can see the third bright planet of the season rising in the east -- Mars!" says astronomy professor Jimmy Westlake of Stagecoach, Colorado. He took this picture of the red planet on Feb. 27th.
more images: from Constantine Emmanouilidi in the Pieria mountains of Greece; from Darryl Reid at The Hoodoos in the Canadian Badlands; from Ronald Mochinski of Warrenton, Virginia; from Sue Stefanowicz of Dixon, IL; from James W. Young of Ecola State Park, Oregon; from Mike Holloway of Van Buren, AR; from Kamila Mazurkiewicz of Puławy, Poland; from Petr Horálek of the Academy of Sciences of the Czech Republic; from Jun Lao of Mason, Ohio; from Marek Nikodem of Szubin, Poland;