| | | |
| --- | --- | --- |
| Learn to photograph Northern Lights like a pro. Sign up for Peter Rosen's Aurora Photo Courses in Abisko National Park. | | |
AURORA SURPRISE PROMPTS ROCKET LAUNCH: A geomagnetic storm erupted during the early hours of Jan. 26th, sparking a surprise display of bright auroras around the Arctic Circle. Scientists took the opportunity to launch four sounding rockets from Alaska's Poker Flat Research Range to study the effect of solar storms on the upper atmosphere. Photographer Jamie Adkins created this composite shot of the rocket salvo: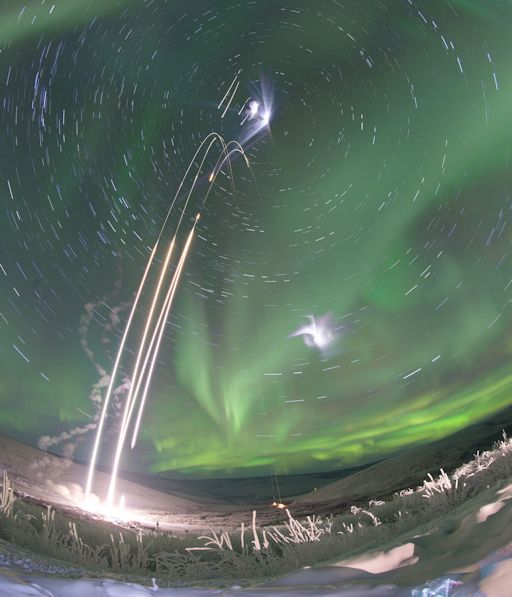 Richard Collins, a principal investigator from the Geophysical Institute at the University of Alaska, Fairbanks, explains the purpose of the launches: "Recent solar storms have resulted in major changes to the composition of the upper atmosphere above 49 miles (80 kilometers), where enhancements in nitrogen compounds have been found.  These compounds can be transported into the middle atmosphere where they can contribute to ozone destruction."
But do these ozone-destroying compounds actually make it down to the ozone layer? "Meteorological conditions do not always allow such transport to occur," he says. Instruments on the rockets were designed to investigate those conditions--specifically, how turbulence and diffusion might cause compounds to mix downward in the atmosphere.
Two of the rockets released trails of trimethyl aluminum (TMA) vapor, creating whitish clouds that were photographed from several ground stations. Miguel Larsen, a principal investigator from Clemson University in South Carolina says "this will help us trace turbulence in the atmosphere/space transition region, and thus, the way atmospheric properties are mixed vertically."
Browse Spaceweather.com's photo gallery for more pictures of the colorful experiment. Aurora alerts: text, voice
BRIGHT ASTEROID FLYBY--TONIGHT: A mountain-sized space rock is approaching Earth for a harmless but eye-catching close encounter on Monday night, Jan. 26-27. The incoming asteroid, named 2004 BL86, will be just 740,000 miles away (3.1 times farther from us than the Moon) and visible in ordinary binoculars. Click to view an 8-minute movie of the asteroid in motion, recorded during the early hours of Jan. 26th by Alberto Quijano Vodniza of Pasto, Narino, Colombia: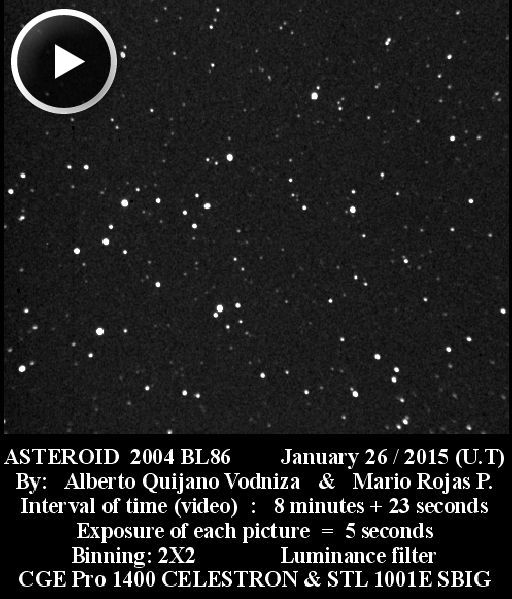 At closest approach, sunlight reflected from the surface of 2004 BL86 will make it glow like a 9th magnitude star. Amateur astronomers with even small backyard telescopes can see it zipping among the stars of the constellation Cancer. Check out this video, prepared by the Sociedad de Astronomia del Caribe, for detailed observing tips: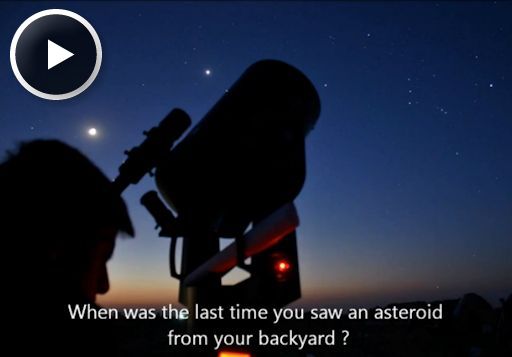 NASA radars are watching, too. As the asteroid passes by, astronomers will use the Deep Space Network antenna at Goldstone, California, and the giant Arecibo radar in Puerto Rico to "ping" 2004 BL86, pinpointing the asteroid's location and tracing its shape.
"When we get our radar data back the day after the flyby, we will have the first detailed images," said radar astronomer Lance Benner of JPL, the principal investigator for the Goldstone radar observations of the asteroid.  "At present, we know almost nothing about this asteroid, so there are bound to be surprises."  
At the moment, astronomers think the asteroid is about a third of a mile (0.5 kilometers) in diameter. The flyby of 2004 BL86 will be the closest by any known space rock this large until asteroid 1999 AN10 flies past Earth in 2027.  
Realtime Space Weather Photo Gallery
SKI HALOES: For people in the northern hemisphere, now is the time to go skiing. Little known fact: Ski lifts are great places to see ice halos. Olivier Staiger photographed this specimen on Jan. 23rd while he was riding in a cable car in the Les Violettes ski region of Switzerland: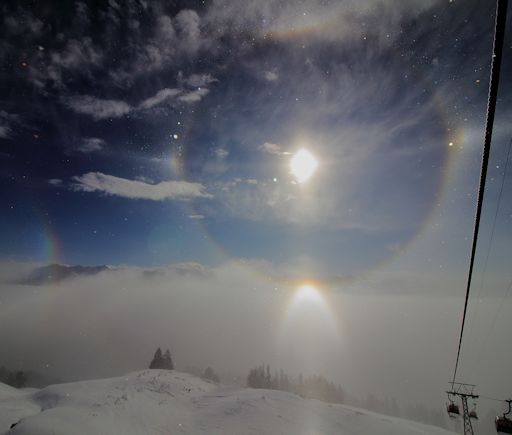 "All morning the area was blanketed in stratus clouds and fog," says Staiger. "Shortly before arriving at Les Violettes, the cable-car emerged from the fog and I saw this very nice display of ice halos, sundogs and more."
Snow-making machines at the ski resort played a key role in creating this display. Atmospheric optics expert Les Cowley explains: "Diamond dust ice crystals growing slowly downwind of ski-slope snow blowers filled the air. Sunlight shining through the crystals produced the display. These man-made crystals tend to be more optically perfect than the ones in clouds and so we get bright, sharp and often very rare halos. Outstanding in this display is a lower tangent arc shining just below the horizon. More halos are labeled here."
Going skiing? Be alert for halos. More examples may be found in the realtime photo gallery.
---
Every night, a network of NASA all-sky cameras scans the skies above the United States for meteoritic fireballs. Automated software maintained by NASA's Meteoroid Environment Office calculates their orbits, velocity, penetration depth in Earth's atmosphere and many other characteristics. Daily results are presented here on Spaceweather.com.
On Jan. 26, 2015, the network reported 1 fireballs.
(1 sporadic)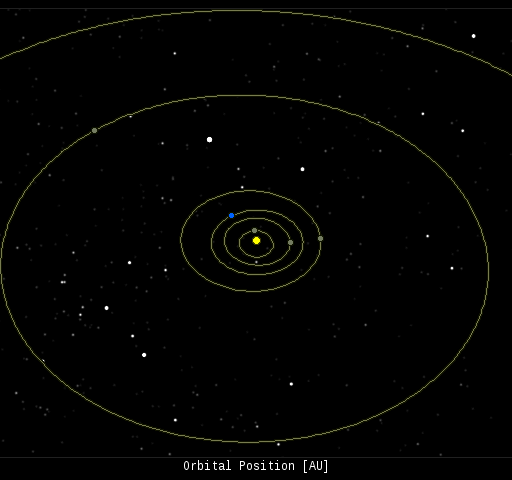 In this diagram of the inner solar system, all of the fireball orbits intersect at a single point--Earth. The orbits are color-coded by velocity, from slow (red) to fast (blue). [Larger image] [movies]
Potentially Hazardous Asteroids (
PHAs
) are space rocks larger than approximately 100m that can come closer to Earth than 0.05 AU. None of the known PHAs is on a collision course with our planet, although astronomers are finding
new ones
all the time.
On January 26, 2015 there were potentially hazardous asteroids.
Notes: LD means "Lunar Distance." 1 LD = 384,401 km, the distance between Earth and the Moon. 1 LD also equals 0.00256 AU. MAG is the visual magnitude of the asteroid on the date of closest approach.
| | |
| --- | --- |
| | The official U.S. government space weather bureau |
| | |
| --- | --- |
| | The first place to look for information about sundogs, pillars, rainbows and related phenomena. |
| | |
| --- | --- |
| | Researchers call it a "Hubble for the sun." SDO is the most advanced solar observatory ever. |
| | |
| --- | --- |
| | 3D views of the sun from NASA's Solar and Terrestrial Relations Observatory |
| | |
| --- | --- |
| | Realtime and archival images of the Sun from SOHO. |
| | |
| --- | --- |
| | from the NOAA Space Environment Center |
| | |
| --- | --- |
| | the underlying science of space weather |