Where's Saturn? Is that a UFO--or the ISS? What's the name of that star? Get the answers from mySKY--a fun new astronomy helper from Meade.

NOON TRIANGLE: Don't look (because it would really hurt your eyes), but Mercury and Jupiter have gathered around the Sun to form a compact triangle in the noon sky. A coronagraph onboard the Solar and Heliospheric Observatory (SOHO) is monitoring the formation, which will persist for the rest of the week. Join SOHO for a ringside seat.

HISTORIC HALOS: On December 16th, the skies above Oslo, Norway, stunned onlookers with a display of ice halos that "looks set to go down in halo history as one of the greatest," says atmospheric optics expert Les Cowley.

Oslo resident Johannes Froyen describes the scene: "It was a beautiful day with tiny ice crystals falling from a clear sky. As I looked out my window, I was thrilled to see so many arcs and pillars of light." He took these pictures using a Nikon D70: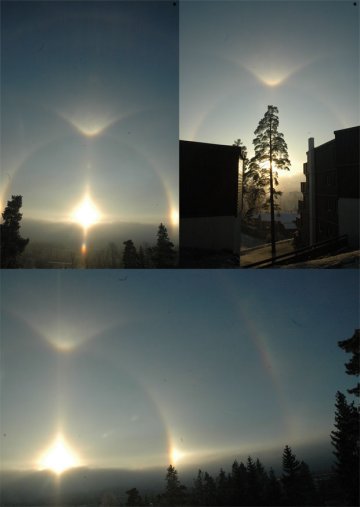 The cause of the display was sunlight shining through diamond dust--that is, tiny crystals of ice in the air near ground level. "Diamond dust makes the very best halos," says Cowley. "The Oslo display was widely seen and had several rare arcs. The bright V shaped halo touching the 22 degree halo is an upper tangent arc. Outside that, the brightly colored arc is actually two superimposed halos, a supralateral arc made by horizontal pencil-like crystals and a very rare 46 degree halo made by tumbling crystals."
"The season of diamond dust is upon us in the Northern Hemisphere," he says. "Check the sky during the icy dawns and days of the next few weeks!"
ANTICIPATION: Will it turn into a sunspot--or not? That's the question solar physicists around the world are asking themselves this week as a bright knot of reversed-polarity magnetism crosses the face of the sun. On the answer hinges the beginning of a new solar cycle.
Yesterday in Rockville, Maryland, Greg Piepol used his Coronado SolarMax90 to photograph the region of interest: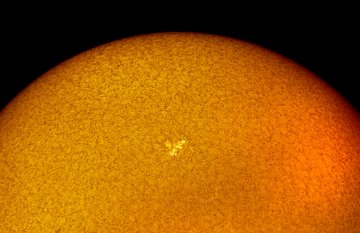 As explained in a recent story from Science@NASA, new sunspot cycles always begin with a high-latitude, reversed polarity sunspot. This little active region is both high-latitude and reversed polarity. All it has to do to trumpet the start of a new solar cycle is coelesce into a genuine sunspot.
"Hopefully this active region is the harbinger of good news for the new year!" says Piepol, who craves more solar activity than the low ebb we've been experiencing in 2007. Will a new-cycle spot emerge this week? Stay tuned.
---
2007 Geminid Meteor Gallery
[World Map of Geminid Sightings]
[IMO recap] [meteor alerts] [Night Sky Cameras]