Where's Saturn? Is that a UFO--or the ISS? What's the name of that star? Get the answers from mySKY--a fun new astronomy helper from Meade.

AURORA WATCH: Sky watchers in Russia, Scandinavia, Canadas and Alaska should be alert for auroras tonight. A fast solar wind stream is blowing against Earth and causing high-latitude geomagnetic storms: gallery.

SUNSET PLANET: Looking for Mercury? Finding it is child's play: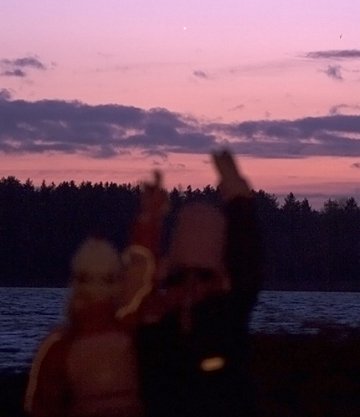 These are the children of Swedish astrophotographer P-M Hedén pointing out Mercury to their dad just a few hours ago. Mercury, so often lost in the glare of the sun, is putting on a rare evening sky show this month, popping into view above the western horizon as soon as the sun goes down. (Tip: Binoculars can help you find Mercury while the twilight is still bright.)
"I had a lovely evening with my children looking at the sky," says Hedén. "We saw Mercury, Mars, the Pleiades and the Moon."
ECHOES OF RAINBOW: "Riding home on the bus this afternoon, I noticed a strange rainbow," reports Darryl Luscombe of Vancouver, British Columbia. The 'bow appeared not just once, but many times, seeming to echo into the distance. "I pulled out my new pocket-sized digital camera (a Canon SD1000) and snapped some pictures."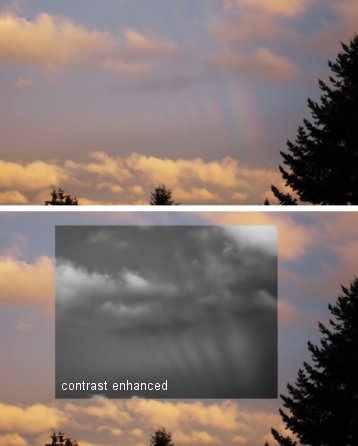 What are these echoes of rainbow?
Atmospheric optics expert Les Cowley answers: "The multiple arcs are called supernumerary rainbows. They were so named because early natural philosophers could not explain them and considered that they should not be there. They are a diffraction pattern produced when rays passing through small raindrops overlap and interfere. If we are lucky we see one or two, these widely spaced multiple ones are exceptional and tell us that the raindrops were very small and, more unusually, all of the same size."
---
Comet 17P/Holmes Photo Gallery
[World Map of Comet Sightings]
[sky map] [ephemeris] [3D orbit] [comet binoculars]