Autumn is here, and it's a wonderful time for stargazing. Find out what's up from Spaceweather PHONE.
MILD AURORAS: A solar wind stream hit Earth on Oct. 13th and sparked mild auroras over Scandinavia and Alaska. There's a slim chance of more high-latitude auroras tonight as the solar wind speed remains high.
SOLAR ACTIVITY: Yes, solar observing is an art form. Inspired by what he saw through his sun-filtered telescope, Mark Seibold made this spirited pastel sketch of today's arched prominence: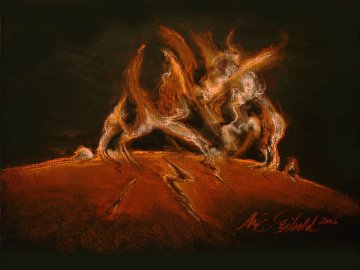 Rendered in pastel: the view through a SolarMax40 solar telescope.
Although the scene is frozen in time, it gives a distinct impression of movement. Indeed, says Mark, "I made the sketch while watching the prominence change dynamically for 20 minutes."
more images: from Franck Charlier of Marines, Val d'Oise - France; from John Stetson of Falmouth, Maine; from Les Cowley of the United Kingdom; from Erika Rix of Zanesville, Ohio; from Michael F. Borman of Evansville, Indiana; from Peter Paice of Belfast, Northern Ireland;
WHITE RAINBOW: On Oct. 8th, a ghostly white rainbow materialized at the Pacifica Pier in Pacifica, California. "The fisherman couldn't care less," says photographer Mila Zinkova, "but I couldn't stop taking pictures."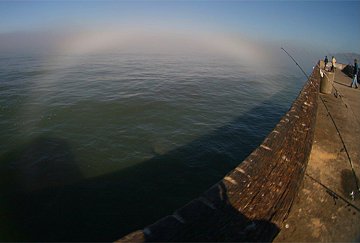 Photo credit: Mila Zinkova in Pacifica, California.
The correct name of this phenomenon is "fogbow." Atmospheric optics expert Les Cowley explains: "Always look for fogbows when a low sun starts to shine through mist or fog. They are almost colorless and sparkle and shimmer in the misty light. Fogbows are formed like rainbows, with tiny fog droplets taking the place of much larger raindrops. The light waves squeezed inside the small drops interfere to produce the broad diffuse bow."