The space shuttle is docked to the ISS. Would you like a call when the pair fly over your backyard? Sign up for SpaceWeather PHONE.

WEIRD ASTEROID: Today, NASA radars are trained on a tiny asteroid named 6R10DB9 making a close (270,000 km) approach to Earth. Only 4 meters wide, 6R10DB9 is currently orbiting our planet as a temporary satellite. The object is so small that solar radiation pressure is perturbing its motion, and it should return to solar orbit later in the summer. The origin of this object is unknown; it may be a piece of the Moon itself broken off by an lunar asteroid impact. [more]

ISS FLARES: Assembly of the International Space Station continues apace in Earth orbit, and with each new flat surface added to the station, the odds improve that you might see an "ISS Flare." Dave Storey of the Isle of Man, UK, photographed this one on June 11th: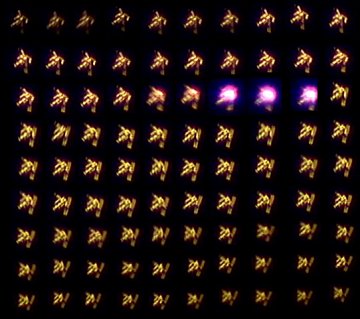 "A hole in the cloud cover developed this evening and I was able to have a go at chasing the ISS with my 6-inch refractor," says Storey. "As I tracked the station through the finder scope, the station flared when sunlight glinted off a flat surface."
The space station in the night sky ordinarily rivals Jupiter or Venus. When it flares, it can double in brightness--or more. That's something to see; the trick is knowing when to look.
more images: from Mike Tyrrell of England; from Martin Wagner of Sonnenbuehl-Genkingen, Germany; from Ralf Vandebergh of the Netherlands; from Martin Popek of Nýdek, Czech Republic.
BIG SUNDOG: "The placement of this sundog right next to Auckland's Sky Tower made a lovely sight as I was walking home this afternoon!" says Yvette Cendes of Auckland, New Zealand, who snapped a picture using her Canon PowerShot: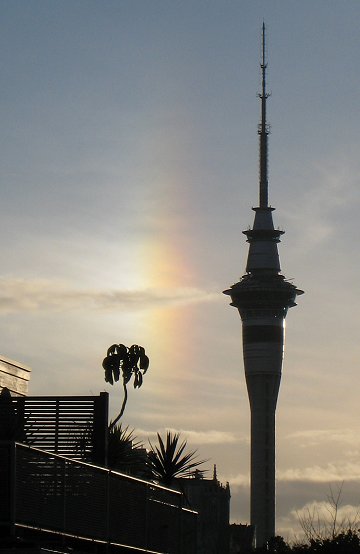 Sundogs resemble rainbows, but they have nothing to do with rain. Ice is responsible for this phenomenon. Sundogs are caused by tiny plate-shaped ice crystals that flutter down from high clouds like leaves with flat faces almost horizontal. The crystals catch the rays of the sun and transform them into a vivid rainbow-colored splash of light.
Because high clouds are always freezing, sundogs may appear in any season or latitude. Look for them!
---
2007 Noctilucent Photo Gallery
[Listen!] [Night-sky Cameras]