| | | |
| --- | --- | --- |
| Where's Saturn? Is that a UFO--or the ISS? What's the name of that star? Get the answers from mySKY--a fun new astronomy helper from Meade. | | |
AFTER SUNSET: Looking for Mars? It's right beside the Moon. When the sun goes down tonight, look south to behold a lovely gathering of Luna and the Red Planet: sky map.
HAPPY PI DAY: March 14th (3.14) is

day and all around the world mathematicians are celebrating this compelling and mysterious constant of Nature. Pi appears in equations describing the orbits of planets, the colors of auroras, the structure of DNA. It's everywhere.
Humans have been struggling to calculate

for thousands of years. Divide the circumference of a circle by its diameter; the ratio is

. Sounds simple, but the devil is in the digits. While the value of

is finite (a smidgen more than 3), the decimal number is infinitely long:
3.1415926535897932384626433832795
02884197169399375105820974944592307
81640628620899862803482534211706...more
Supercomputers have succeeded in calculating more than 200 billion digits and they're still crunching. The weirdest way to compute

: throw needles at a table or frozen hot dogs on the floor. Party time!
ASTEROID GEOGRAPHOS: Massive asteroid 1620 Geographos is approaching Earth. There's no danger of a collision; at closest approach on March 17th, the oblong 5 x 2 km-wide space rock will be almost 12 million miles away. Even at that distance, however, it is a bright and easy target for mid-sized backyard telescopes: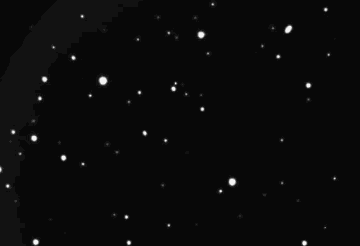 Photo details: Takahashi Mewlon 180, ST7E CCD, 1h17m duration
Amateur astronomer Dennis Simmons of Brisbane, Australia, made the movie last night, March 13th. "It clearly shows 1620 Geographos silently flitting between the fixed stars, whilst most people were safe in their beds, blissfully oblivious to the celestial drama being played out as they slept the night away," he says. "Thin, high clouds affected some of the frames, contributing to the dimming of some fainter stars which shows as a blinking effect."
In the nights ahead, observers in both hemispheres can see Geographos as it glides by the constellation Orion glowing like a 13th magnitude star. Point your telescope at these coordinates.
SUN HALO: "March 11th was the first real spring-like day here in Nebraska and it brought some optics with it," reports photographer Mike Hollingshead. "This was the brightest sun halo I have ever seen."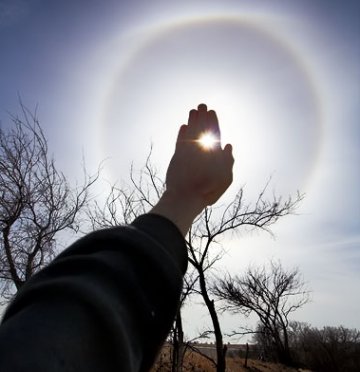 Sun halos are caused by ice in the air. Tiny crystals floating 5 to 10 km high catch the rays of the sun and bend them into a variety of luminous rings and arcs.
"I would never expect to see such a halo with temperatures in the 60s," says Hollingshead, "but it just jumped out at you." As a matter of fact, the air is always freezing cold 5 to 10 km above Earth's surface, so ice crystals can form there even at the dawn of Spring. "Add in some geese migrating on a wonderfully warm day and, well, it was more than I expected when I woke up."
more images: from Lois Reinert of Tracy, MN; from Jeff Biegert of Fort Collins, Colorado; from Aymen Ibrahem of Plateau of Giza, Egypt; from Marty Thurman of Post Falls, Idaho;