JULES VERNE: After undocking on Sept. 5th, Europe's Jules Verne spacecraft is now leading the ISS around Earth. "I decided to try Spaceweather's Satellite Tracker and successfully observed the two spacecraft this weekend," reports John C McConnell of Northern Ireland: photos. Jules Verne is maneuvering so that ISS astronauts will have a good view of its fiery reentry over the Pacific Ocean on Sept. 29th. Stay tuned for updates.
FIND THE PLEIADES: When in Iceland, where do you look for the Pleiades? Scan the photo for clues as you scroll down for the answer: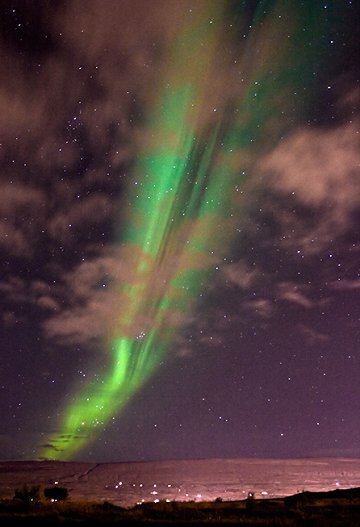 Answer: Through a gap in the Northern Lights. Click here.
Sean Scully took the picture on Sept. 6th just outside of Akureyri, Iceland. "The sunsets are now early enough that the sky is dark after 10 p.m. and we can see the auroras again." This display was caused by a solar wind stream buffeting Earth's magnetic field.
Good news: the solar wind is still blowing and more auroras are possible tonight. Sky watchers in Alaska, Canada, Iceland and Scandinavia should be alert for Pleiades peeking through the green.
September 2008 Aurora Gallery
[Past Septembers: 2007, 2006, 2005, 2004, 2002, 2001]
SAND CORONA: On Saturday, Sept. 6th, a plume of fine dust from the Sahara desert wafted over Hungary, causing something odd to happen in the sky. Photographer Agnes Kiricsi points it out: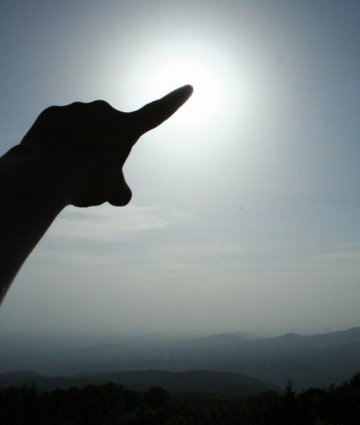 "The Sun developed developed a Bishop's Ring--a blue aureole surrounded by a wide brownish rim," says Kiricsi. "This 'sand-corona' started in the morning and got better and better during the day, producing a really pale sunset."
Similar blue coronas are formed by volcanic ash, and indeed they have been sighted in recent weeks, forming in response to the eruption of Alaska Kasatochi volcano. Put your finger over the sun; there's no telling what you might see.