NOAA PREDICTS SOLAR CYCLE 24: Today, an international panel of experts led by NOAA issued a new prediction for Solar Cycle 24: It will peak, they say, in May of 2013 with a below-average sunspot number of 90: full story.
HERE THEY COME: The first of two new active regions, described below, is emerging over the sun's northeastern limb. Click on the links for photos: from Pete Lawrence of Selsey, West Sussex, UK; from from Jesper Sorensen of Kastrup, Denmark.
AROUND THE BEND: NASA's STEREO-B spacecraft is monitoring a pair of active regions hidden behind the sun's eastern limb. They are the bright "hot spots" in this photo taken by STEREO-B's extreme ultraviolet telescope just a few hours ago: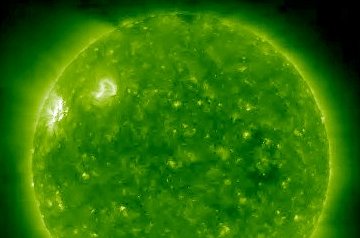 On May 5th and 6th, magnetic fields in the vicinity of these regions erupted, hurling at least three coronal mass ejections (CMEs) into space. Since then, no explosions have been observed. The sunspots probably located at the base of these active regions might be in decay--or they might be regrouping for a new round of CMEs. We'll find out when the sun's rotation turns the active zone toward Earth for a better view in the days ahead. Readers with solar telescopes should train their optics on the eastern limb.
ISS COMPANION: Shortly before dawn on May 7th, the International Space Station flew directly over the Netherlands. Astronomer Ralf Vandebergh was watching and noticed, about 90 seconds later, another spacecraft following the ISS. He photographed the pair using his backyard 10-inch telescope: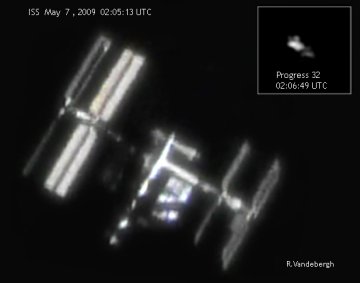 "The second spacecraft was the Progress 32 rocket, which undocked from the ISS on May 6th," he says. The Russian rocket delivered a load of supplies to the ISS in February and now it is taking away a load of trash. The Progress and its contents are scheduled to re-enter Earth's atmosphere and disintegrate over the Pacific Ocean on May 18th. Meanwhile, the rocket can be seen tagging along behind the ISS; check the Simple Satellite Tracker for flyby times.
---
April 2009 Aurora Gallery
[previous Aprils: 2008, 2007, 2006, 2005, 2004, 2003, 2002]
---