| | | |
| --- | --- | --- |
| NEW AND IMPROVED: Turn your iPhone or iPod Touch into a field-tested global satellite tracker. The Satellite Flybys app now works in all countries. | | |
JOURNEY TO THE STARS: It's immersive, it's explosive, and best of all it's free. On June 7th, NASA will begin sending complimentary DVDs of the smash-hit planetarium show "Journey to the Stars" to teachers and students around the USA. Today's story from Science@NASA reviews the show and tells educators how to request copies.
COMET McNAUGHT: A fresh comet is swinging through the inner solar system, and it is brightening rapidly as it approaches the sun. Presenting, Comet McNaught (C/2009 R1):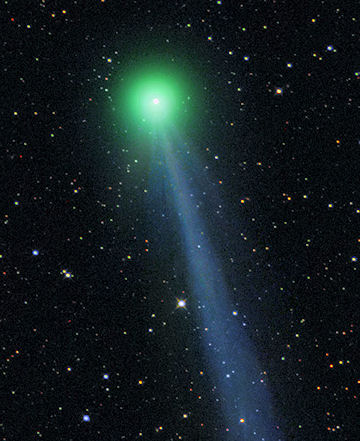 Michael Jäger of Stixendorf, Austria, took the picture on June 6th using an 8-inch telescope. The comet's green atmosphere is larger than the planet Jupiter, while the long willowy ion tail stretches more than a million kilometers through space. These dimensions make the comet a fine target for backyard telescopes.
Comet McNaught can be found low in the northeastern sky before dawn gliding through the constellation Perseus. It is brightening as it approaches Earth for a 1.13 AU close encounter on June 15th and 16th. Currently, the comet is at the threshold of naked eye visibility (5th to 6th magnitude) and could become as bright as the stars of the Big Dipper (2nd magnitude) before the end of the month. Estimates are uncertain, however, because this comet is a newcomer to the inner solar system, and thus somewhat unpredictable. Readers are encouraged to wake up before dawn and monitor developments. [sky map] [ephemeris] [3D orbit] [full story]
more images: from Primoz Cigler of Bohor, Slovenia; from Pete Lawrence of Selsey, West Sussex, UK; ; from Monika Landy-Gyebnar of Veszprem, Hungary; from Petr Horalek of Ustupky, Czech republic
BLUE STAR MEETS RED PLANET: There's a new "double star" in the evening sky. Bright blue Regulus is having a 1o close encounter with Mars. Look for the pair almost due west after sunset. Here, Tamas Ladanyi points them out from the shores of Fertő/Neusiedlersee Lake, a UNESCO World Heritage Area in Hungary: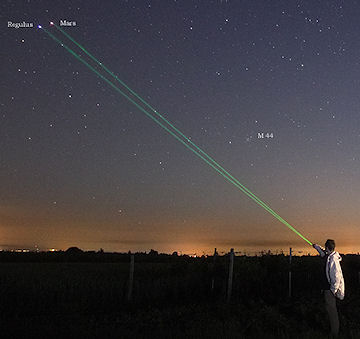 "Both the planet and the star are about the same brightness, but the color contrast is absolutely wonderful," notes astrophotographer Pete Lawrence of Selsey UK. "An exquisite sight with the naked eye, binoculars or low power in a telescope - catch it while it lasts!"
more images: from Pete Lawrence of Selsey, West Sussex, UK; from Tamas Ladanyi of Fertő/Neusiedlersee World Heritage Area, Hungary; from Jens Hackmann of Weikersheim, Germany; from Domenico Licchelli of Gagliano del Capo, Italy; from Luca Basili of Rome, Italy; from Sylvain Weiller of Saint Rémy lès Chevreuse, France;
---
May 2010 Aurora Gallery
[previous Mays: 2008, 2005, 2004, 2003, 2002] [aurora alerts]