| | | |
| --- | --- | --- |
| Where's Saturn? Is that a UFO--or the ISS? What's the name of that star? Get the answers from mySKY--a fun new astronomy helper from Meade. | | |
HEAVENLY ENCOUNTER: Great beauty can cause loss of balance, so before you click on this link, sit down. Done? That was Comet 17P/Holmes gliding by the California Nebula. The comet-nebula encounter is taking place right now--an easy target for backyard telescopes equipped with digital cameras. Photographers, after sunset, point your optics north at the constellation Perseus: sky map, ephemeris.
AURORA WATCH: Last night the sun's magnetic field near Earth tipped south, opening a crack in our planet's defenses against the solar wind. Charged particles poured in, fueling a brief but beautiful display of aurora borealis: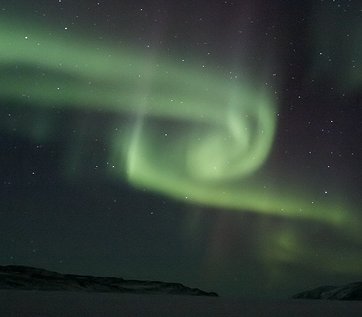 Photo details: Canon EOS 30D, 15s, 1500 ISO, f3.5
"The lights were fantastic with a lot of colors," reports Sylvain Serre who took the above photo from Salluit in northern Quebec.
The display has subsided, but it could flare up again tonight or tomorrow when a solar wind stream is expected to hit Earth's magnetic field. Sky watchers from Alaska to Scandinavia should remain alert for auroras: gallery.
ZODIACAL LIGHT: This weekend after sunset, look west for a ghostly triangle of light jutting upward from the horizon. If you can see it, you've spotted the Zodiacal Light:
"Here its subtle glow appears over the small-town lights of Borrego Springs in Southern California's Anza-Borrego Desert," says photographer Dennis Mammana. He took the picture, a 30-second exposure, on March 2nd using a Canon 20D at ISO 800.
Zodiacal light is sunlight reflected from dust particles littering the solar system's orbital plane. (These are the same dust particles that make meteors when they occasionally hit Earth's atmosphere.) March is a good month to look because the glowing dust band is oriented nearly vertical at sunset. A trip to the countryside on a moonless March evening often results in a Zodiacal Light sighting. Try it!
more images: from Thorsten Boeckel at the Santa Maria de Santiaguito volcano, Guatemala; from Phillip Chee of South Monaghan, Ontario, Canada; from Doug Zubenel of Linn Co., Kansas; from Ajay Talwar of A.R.I.E.S., Manora Peak, Nainital;