| | | |
| --- | --- | --- |
| A "ring of fire" solar eclipse is coming to Australia on May 9th. Tune into the live webcast sponsored by the Coca-Cola Space Science Center. | | |
GLOW IN THE DARK PLANTS ON THE ISS: Can plants adapt to the novelty of climate change? Researchers seeking to answer this question have sent genetically engineered plants to the ISS for exposure to extreme conditions. To report their stress, the plants have learned to glow in the dark. [video]
GREAT HORNED SUNSPOT: Around the world, amateur astronomers are snapping pictures of behemoth sunspot AR1734 as it crosses the solar disk. In Buffalo, New York, photographer Alan Friedman noticed something when he rotated his picture 90 degrees. "Sunspot 1734 has a definite owlish look!"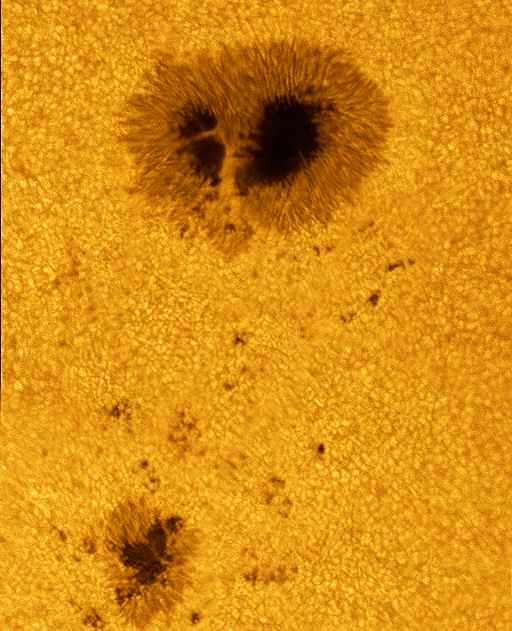 "But who gives a hoot," he continued, "this grand active region looks fantastic from every perspective."
The owl could be poised to explode. Sunspot AR1734 has a 'beta-gamma' magnetic field that harbors energy for M-class solar flares, almost-certainly Earth-directed because the sunspot is facing our planet. NOAA forecasters estimate a 45% chance of M-flares on May 6th. Solar flare alerts: text, voice.
Realtime Space Weather Photo Gallery
M5 SOLAR TORNADO: Sunspot group AR1739 erupted on May 3rd, producing an M5-class solar flare and a "solar tornado." Click on the image and watch the plasma twist: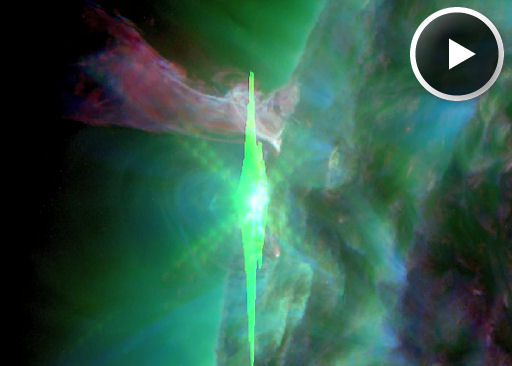 The explosion also hurled a bright coronal mass ejection (CME) into space: movie. Traveling almost 1300 km/s, the electrified cloud is expected to sweep past a couple of NASA spacecraft (EPOXI and Spitzer) on May 7th. No planets, however, were in the line of fire. Solar flare alerts: text, voice.
Realtime Space Weather Photo Gallery
MOOOO-VING UP--EDGE OF SPACE ADVERTISING: To fund space weather experiments in the stratosphere, science students in Bishop, California, have started a new business: Edge of Space Advertising. For a fee, they'll fly ad banners, shoes, US presidents--you name it!--to the edge of space. On April 22nd (Earth Day), they launched a cow: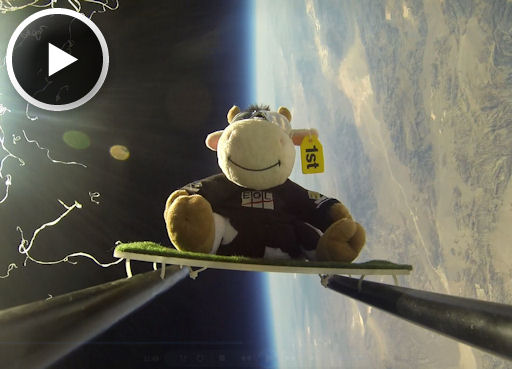 This is EVA, the mascot of New Zealand Internet service provider EOL. Last month, she traveled from Tauranga, New Zealand, to an Edge-of-Space Port in the Sierra Nevada mountains of California. There, students attached EVA to the payload of a helium balloon and launched her to the stratosphere 120,000 feet above Earth's surface. Along the way she experienced temperatures as low as -65o C and air pressures only 1% of sea level--much like conditions on the planet Mars. At the end of the 3-hour flight, the balloon popped and EVA parachuted back to Earth, touching down in a remote corner of Death Valley. GPS signals led the students to the landing site, where they recovered EVA covered with desert dust but still smiling.
The name of the student group is "Earth to Sky Calculus." Mentored by Dr. Tony Phillips of spaceweather.com, they are actively exploring the stratosphere--measuring the effect of solar flares on the ozone layer, capturing high-altitude bacteria, and photographing meteor showers. The profits are going to a good cause.
EVA's flight to the stratosphere and the student's recovery expedition through Death Valley has generated a flurry of news coverage for EOL in New Zealand. In short, Edge of Space Advertising really works. Interested? Contact Dr. Tony Phillips for rates and details.
---
---
---
Realtime Noctilucent Cloud Photo Gallery
[previous years: 2003, 2004, 2005, 2006, 2007, 2008, 2009, 2011]