Would you like a call when auroras appear over your hometown? Sign up for Spaceweather PHONE.
URSID METEOR SHOWER: A flurry of meteors may emerge from Ursa Minor (the Little Dipper) on Dec. 22nd between 18 and 23 hours UT when Earth runs into a filament of debris trailing comet 8P/Tuttle. Meteor forecaster Peter Jenniskens of the SETI Institute anticipates as many as 39 meteors per hour, best seen from Europe and Asia. Reference: IAU Electronic Telegram #773.
AURORAS FROM SPACE: How bright were the auroras of Dec. 14th? As bright as city lights and easily seen from space. A US Air Force DMSP satellite took this picture from orbit 830 km above the United States: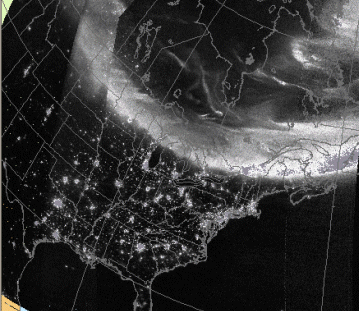 The bright arc stretching from Montana to Maine is the aurora borealis. In many places it completely overwhelms the city lights below.
"The DMSP satellite has the ability to detect auroral light at night," says Paul McCrone of the Air Force Weather Agency at Offutt AFB in Nebraska. "These images are mosaics of various DMSP overflights on Dec. 12-13, Dec. 13-14, and Dec 14-15. The Dec. 14th image is quite striking."
December 2006 Aurora Gallery
Updated: December 18th
GOODBYE... and thanks for all the X-flares. Sunspot 930 announced itself on Dec. 5th with one of the strongest flares in years--an X9, followed by an X6 on Dec. 6th, an X3 on Dec. 13th, and an X1 on Dec. 14th. Not bad for solar minimum!
Now the spot is gone. The slow spin of the sun carried it over the sun's western limb this morning--but not before one last flare: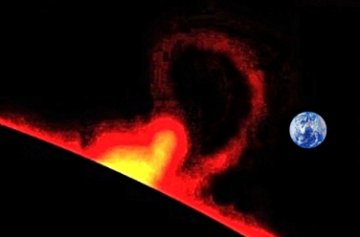 Photo details: Coronado PST and a Canon XTI digital camera.
"Today sunspot 930 said a nice goodbye," reports photographer Mila Zinkova of San Francisco, California. "There was C2 flare at the limb with a nice ring-shaped prominence. The prominence changed shape and brightness constantly--very pretty."