Would you like a call when auroras appear over your hometown? Sign up for Spaceweather PHONE.
SPECTACULAR AURORAS: What do Alaska and Arizona have in common? Northern Lights. Auroras appeared over both states on Dec. 14th when a coronal mass ejection (CME) hit Earth and sparked a severe geomagnetic storm: gallery.
That storm has subsided, but another may be in the offing. NOAA forecasters estimate a 50% chance of severe geomagnetic activity on Dec. 16th when a second CME is expected to hit. Sky watchers should remain alert for auroras.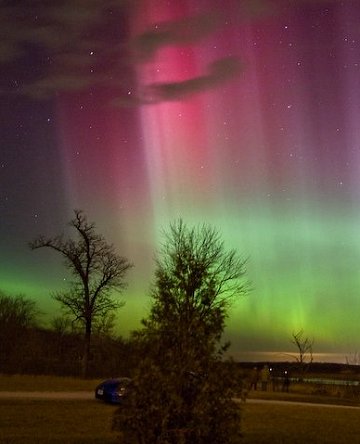 Above: Auroras over Saylorville Lake, Iowa, on Dec. 14th. "It was a beautiful display--lots of movement and pulsations, nice flowing curtains and some beautiful red beams," says photographer Stan Richard. "The show lasted for one and a half hours."
December 2006 Aurora Gallery
Updated: December 16th
FAREWELL 930: The source of all this solar activity is sunspot 930. It won't be around much longer. The sun's rotation is carrying the active region toward the western limb, where it will vanish in a few days: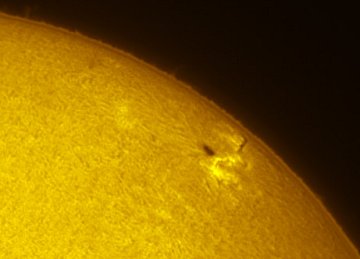 Above: Sean Walker of Chester, New Hampshire, used a Coronado PST to take this picture on Dec. 16th. It was nice to get "one last look at 930," says Walker. "There's also a beautiful forest of prominences on the other side of the sun: image."
more images: from John Stetson of Falmouth, Maine; from John Nassr of Baguio, Philippines; from Peter Paice of Belfast, Northern Ireland;